Sale!
You save 18%
You save £3.16
Out of Stock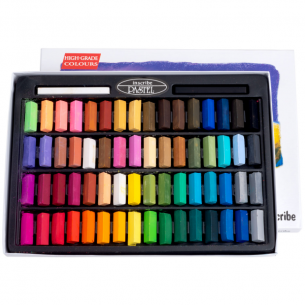 The UK's best selling soft pastels
Set of half-length pastels in 64 colours
Square shape allows for both block & detail work
High pigment content for brilliance & vibrancy
Inscribe soft pastels are the UK's best-selling brand for beginners, hobbyists & professionals looking for a cost-effective way of broadening their horizons artistically.
The 48 half-length pastels included feature colours of unmatched strength & brilliance, thanks to their high pigment content.  Incredibly versatile, the square shape of these pastels allows for both bold & effective highlighting in large areas, or adding fine details & textures.
Able to both blend beautifully & layer on one another for a number of effects & textures, we recommend using a smooth paper as opposed to textured, simply to provide the best surface for a number of uses.
Anonymous A.
11/05/2018

5
/5
Good
Anonymous A.
16/03/2018

5
/5
Used before so I know these pastels are perfect for what I want, and at a really good price too!
Anonymous A.
13/10/2017

4
/5
Reasonably priced, good range of colours
Anonymous A.
09/07/2017

5
/5
good quality and range of colours
Anonymous A.
01/04/2017

5
/5
Great range of colours at a giveaway price. Brilliant for someone just starting out or curious about pastels.
Anonymous A.
16/03/2017

5
/5
The only quibble I would have with this otherwise excellent product is that the box for 64 is so large it bulges while in transit and the soft pastels were all in a heap. Not a good thing if you're trying to keep the pastels clean!
Anonymous A.
27/01/2017

3
/5
Quite hard for "soft" pastel, but they do a job and at a very good price
Anonymous A.
29/12/2016

4
/5
Product very good value for money