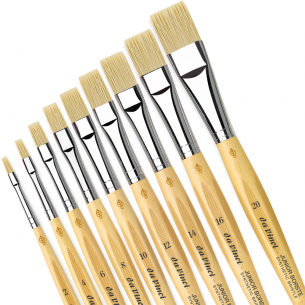 Manufactured by Da Vinci, the world's finest brushmakers 
Available in a range of sizes

 

Series: 329 Junior Borste

Media: Suitable for all media

 

Shape: Flat

 

Bristles: Synthetic, very elasticated

 

Ferrule: Seamless aluminium, rust-proof

 

Handle: Esagonal, lacquered, with textured grip
The 329 range of vegan Junior Borste brushes from Da Vinci are perfect for school & hobby work.
Ideally suited for a younger artist experimenting and learning, with the virtually indestructible synthetic bristles able to hold their precise painting edge even under increased pressure & rust-proof ferrules providing additional structure.
Featuring esagonally shaped handles, designed to prevent the brushes from rolling away when placed down & include a surface lasered into the handle itself to providing a strong grip (especially when wet).