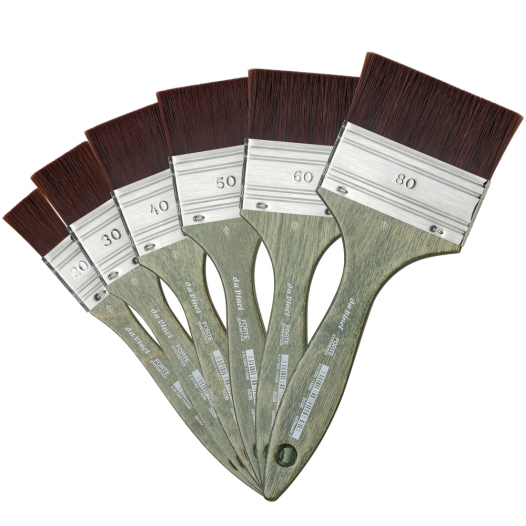 Flat, square ends
Synthetic bristles
Rust-proof steel ferrules
Grey, varnished handles
Ideal for use on textured surfaces
Perfect for decorative art techniques
Handmade in Germany
Ideal for use on textured surfaces such as wood, card, fired porcelain, ceramic, the Da Vinci Mottler Forte Brush is perfect for decorative art techniques.
What is a mottler brush?
Used for faux finishing techniques, murals, washes, varnishing and priming, a mottler brush provides good coverage due to its capacity for holding large amounts of paint. A large, flat brush, a mottler can have long or short bristles, formed from natural hair or synthetic fibres.
Why use a Da Vinci Mottler Forte Brush 5036?
Available in sizes: 20, 30, 40, 50, 60 and 80 mm, there is a Da Vinci Mottler Forte Brush to meet the requirements of all artists and crafters.
How should I care for my Da Vinci Mottler Forte Brush?
It is important to clean brushes thoroughly to prevent bristles losing their interlocking quality, and standing apart. Particular attention should be paid to the edge of the ferrule, where dried paint can become embedded, and result in bristle breakage.
The methods for cleaning brushes differ, depending on the type of paint used. Brushes used to apply water-based colour may be cleaned simply with soap and water. To help preserve the condition of the bristles, a specialist brush cleaner may also be used.
What are the best paints to use with a Da Vinci Mottler Forte Brush?
Suitable for use with all media, the Da Vinci Mottler Forte Brush is ideal for applying gouache, acrylic   and watercolour paint.
Who are Da Vinci?
Owned by the German company Defet, the Da Vinci brand was patented in 1952. The company's philosophy to use only the best materials, traditional craftsmanship, and technological progress ensures Da Vinci brushes are of the highest quality.
Anonymous A.
26/02/2021

5
/5
Good
Anonymous A.
13/10/2020

5
/5
Tried it yesterday. Love all the qualities, mark making and ease of holding.
Anonymous A.
09/04/2020

5
/5
Excellent brushes and cost effective. Brilliant for painting ceramics
Anonymous A.
29/01/2020

4
/5
Super
Anonymous A.
16/03/2017

5
/5
these are the best brushes I have ever used, one reason: they are indestructible even when I wash them with caustic soda or cellulose thinner. They are simply the best for acrylic, I cannot think of a better product!