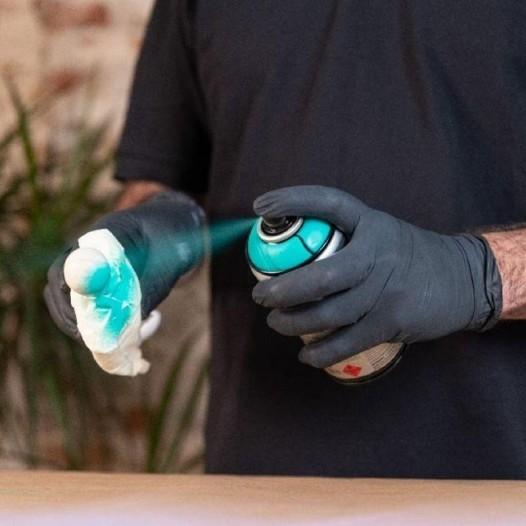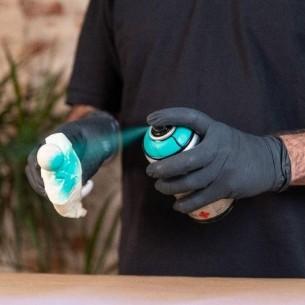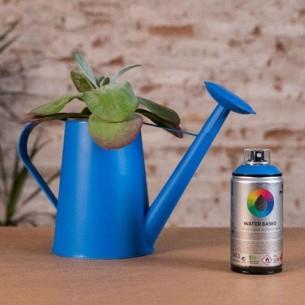 Pick Colours
MTN Water-Based Spray Paints are available in a broad range of matt colours, made using only the highest quality, lightfast pigments.

Fast-Drying & low-odour, ideal for both interior & exterior use, provided areas are suitably well-ventilated.
Suitable for use with concrete, metal, plastics, wood, canvas, glass & even expanded polystyrene.
This versatility makes them ideal for a myriad of techniques including fine art, crafts, DIY and decoration.
Whilst wet, these can be washed away from surfaces, fabrics & skin using only soap & water.
Once dry, they are completely permanent & water-resistant.
Instructions For Use
Before using, shake the can vigorously for around a minute.
Hold the aerosol upside down after use to purge the valve.
If the nozzle is blocked, replace it with a new one.
Notes / Tips
Water-Soluble when wet, Water-Resistant when dry.
Before application, be sure to check that your surface is clean & dry.
Apply thin coats for better results, layering as you go.
Use only in well-ventilated areas.
Do not apply on plugged-in electrical equipment.
AGE RESTRICTED PRODUCT
After placing your order, you will be required to provide a valid form of ID before dispatch.
Failure to do so will result in the product being removed from your order.
For further information, please refer to our Terms & Conditions.
Alice S.
16/08/2023

5
/5
Not used yet, great value for money though and water-based so perfect for my needs.
Alexandru B.
30/06/2023

5
/5
Fantastic product for propose. I wanted to paint some expanded polystyrene. It worked perfectly.
Karen B.
20/06/2023

5
/5
Great paint. I used th on fabric. Brilliant drying time and lovely finish.
Patrick R.
27/07/2022

4
/5
This product in the main is good though the coverage is a little less than I had expected. But still a good product and will purchase again..
Anonymous A.
07/03/2022

5
/5
Good product worked well for my project.
Anonymous A.
06/01/2022

5
/5
Outstanding service
Anonymous A.
17/12/2021

5
/5
Looks to be as requested, haven't tried it yet.
Anonymous A.
28/03/2021

5
/5
Chose this as wanted a water based paint in a spray can. Great choice of colours. Nice easy to hold can to use.
Anonymous A.
28/03/2021

5
/5
This product is amazing. Would defo buy again
Anonymous A.
15/10/2020

4
/5
Does the job, the smell is slightly unpleasant (burnt plastic) but finish is better than i expected.
Anonymous A.
04/04/2019

5
/5
So far so good. Great colour, coverage and no toxic smell!!
Anonymous A.
03/04/2019

5
/5
Just as I had hoped and am having fun!
Anonymous A.
19/03/2019

5
/5
Easy to work with
Anonymous A.
21/12/2018

5
/5
Good coverage. Got a fairly even coat of paint - I'm using this for undercoating some objects and it's been fine for this purpose. Not too smelly but show your lungs some love and wear a dust mask anyway.
Anonymous A.
14/03/2018

5
/5
Perfect results, just what I wanted. Quality products doing exactly what the tin says.
Anonymous A.
11/03/2018

5
/5
Great spray, covers well in a pure matt coating, no shine, no stickiness. Only thing is it needs a lot of shaking before use or it spits blobs. Shake for 5 minutes beforehand for perfect results!
Anonymous A.
13/12/2017

5
/5
Awsome
Anonymous A.
15/06/2017

5
/5
good
Anonymous A.
12/04/2017

5
/5
Excellent for giving children the opportunity to use spray paints - safely.
Anonymous A.
16/12/2016

4
/5
Not used yet