Sale!
You save 38%
You save £3.75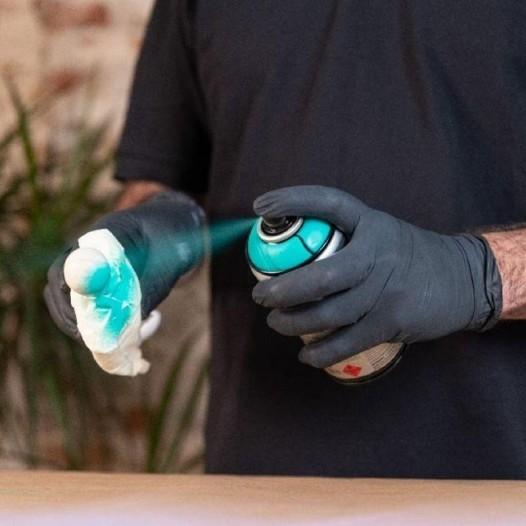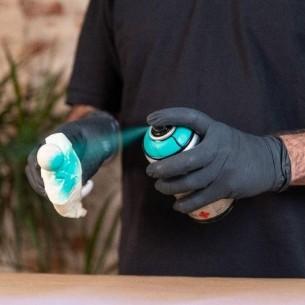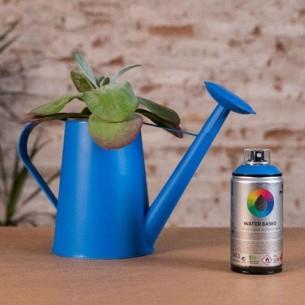 52 brilliant colours
Matte finish
Low-odour
Made from the highest quality pigments
Water-soluable and water-resistant when dry
For use on all types of types of surfaces
Montana MTN Water-Based Spray Paints are formulated with low-odour resins, which are water-soluble and also contain pigments of the highest quality. This range contains 52 vibrant Matte finish colours. 
Montana MTN water based spray paint is suitable for use on all types of surfaces, including polystyrene, wood, glass, concrete, and metal. Once dry they are water resistant.
They are highly recommended for Fine Arts, Graffiti and many other professional works, both interior and exterior. That makes it possible to be used in activities and workshops involving children and feeling less fatigue when painting indoors or places with poor ventilation. A logical evolution of the most artistic and "eco friendly" product.
This can is designed to have a more manageable aerosol, containing a universal transparent nozzle which sprays low pressure and has an anti-clog valve.  Fresh stains can be removed with just soap and water during the first 20-25 minutes of application.
They are manufactured by Montana to maintain high quality products to stay loyal to their principles since 1994. Montana spray paints are produced exclusively in Barcelona.
How to open Montana Spray paint?
Montana MTN water based spray paint cans do not come with lids. A small black disk called a washer will sit beneath the cap so that paint will not be released from the can if you're not ready. The washer and disk are easily removed and the cap clicks back on to the spray paint can with ease. 
How to use Montana spray paint?
While Montana Colors Water Based Spray Paint is suitable for use indoors, it is recommended that the indoor art space be as well ventilated as possible and that the user wear a protective mask. While it is developed to be relatively odorless and lead-free, pressurised cans like this are nevertheless very flammable, so use outdoors is the safest recommendation. 
There is little to no set up required before you can start using your spray paint. Shaking the can well will ensure that the paint and colour pigments inside the can will be loosened and produce the purest colour possible.  When beginning to paint, you should paint in even lines using smooth arm movements for even coverage and fewer drips caused by too much paint. If you wish for darker or more intense colour, you can revisit areas with the same can to build up colour where needed.
Patrick R.
27/07/2022

4
/5
This product in the main is good though the coverage is a little less than I had expected. But still a good product and will purchase again..
Elaine F.
07/03/2022

5
/5
Good product worked well for my project.
Jon T.
06/01/2022

5
/5
Outstanding service
Maurice G.
17/12/2021

5
/5
Looks to be as requested, haven't tried it yet.
Anonymous A.
28/03/2021

5
/5
Chose this as wanted a water based paint in a spray can. Great choice of colours. Nice easy to hold can to use.
Anonymous A.
28/03/2021

5
/5
This product is amazing. Would defo buy again
Anonymous A.
15/10/2020

4
/5
Does the job, the smell is slightly unpleasant (burnt plastic) but finish is better than i expected.
Anonymous A.
04/04/2019

5
/5
So far so good. Great colour, coverage and no toxic smell!!
Anonymous A.
03/04/2019

5
/5
Just as I had hoped and am having fun!
Anonymous A.
19/03/2019

5
/5
Easy to work with
Anonymous A.
21/12/2018

5
/5
Good coverage. Got a fairly even coat of paint - I'm using this for undercoating some objects and it's been fine for this purpose. Not too smelly but show your lungs some love and wear a dust mask anyway.
Anonymous A.
14/03/2018

5
/5
Perfect results, just what I wanted. Quality products doing exactly what the tin says.
Anonymous A.
11/03/2018

5
/5
Great spray, covers well in a pure matt coating, no shine, no stickiness. Only thing is it needs a lot of shaking before use or it spits blobs. Shake for 5 minutes beforehand for perfect results!
Anonymous A.
13/12/2017

5
/5
Awsome
Anonymous A.
15/06/2017

5
/5
good
Anonymous A.
12/04/2017

5
/5
Excellent for giving children the opportunity to use spray paints - safely.
Anonymous A.
16/12/2016

4
/5
Not used yet