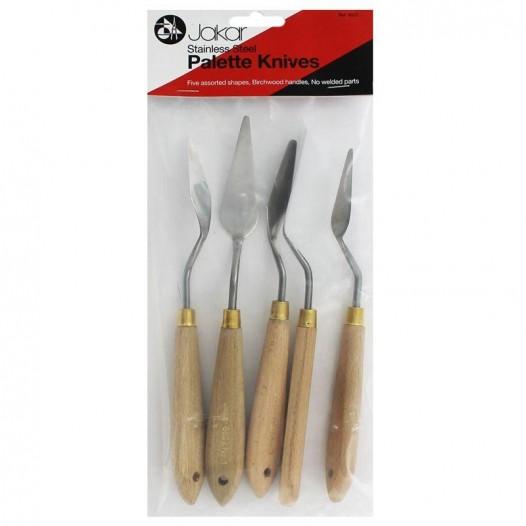 5 assorted shapes
Birchwood handles
Copper ferules
Stainless steel blades
For use with ols and acrylics
Palette Knives are the perfect painting tool for mixing and applying paint when creating a range of different effects. These tools have a flexible stainless steel blade which allows you to use a variety of painting techniques to add texture and patterns to your art work.

The birchwood wooden handles have a copper ferule with no welded parts, designed to ensure that you have as supportive a grip as possible. This helps the blade create clear and precise movements.

The pack contains 5 assorted stainless steel shaped palette knives to offer a wide ranging variety of effects. Recommended for use with oil paints and acrylic paints. Fantastic value for money.
Mike J.
25/12/2021

5
/5
Not used yet - bought as a present.
Beryl O.
04/10/2021

5
/5
I was amazed at the quality of these palette knives, and the person I bought them for is really happy with them.
Anonymous A.
07/04/2021

5
/5
Great