Sale!
You save 58%
You save £19.17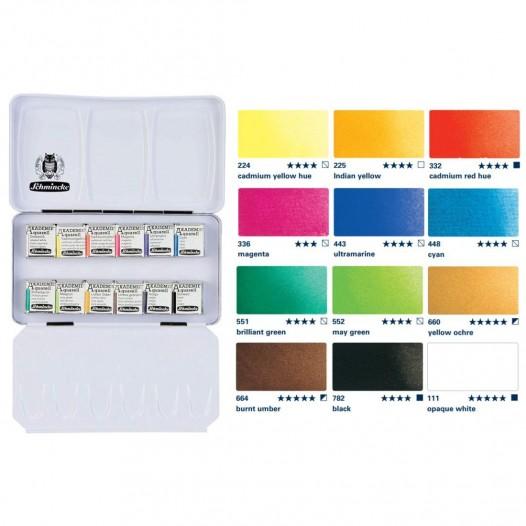 Exclusive Schmincke Akademie watercolours
12 half-pans
Artist quality, highly pigmented colours*
Sturdy metal palette
Ideal for both storage & travel
Made in Germany
Fantastic value
A wonderful Cowling & Wilcox exclusive set of 12 artist quality, highly pigmented watercolour paints, ideal for any artist.
This well designed, sturdy & reliable metal tin (featuring side palettes that fold out for additional colour-mixing space) is fantastic for travel & working in the field, along with saving space at home or in the studio. 
Schmincke have a well recorded & regarded history of using superior quality, natural ingredients, all carefully selected each year for use in every formula, in order to maximise optimisation.
Not only this, but their tried & tested traditional formulas have been in use since 1881 - formerly used by classic artists such as Emil Nolde & Oskar Kokoschka.
Each colour contains the optimal amount of Oxgall, enabling the artist (not the paint!) to decide where the paint should flow moist or stay dry on the surface.
Eva F.
22/11/2022

5
/5
Really pigmented and great for beginners or professionals.
Martine W.
09/08/2022

5
/5
Good selection of colours , and a good offer…
Jonathan D.
27/07/2022

5
/5
Wow, these bring my pen drawings to life. Such quality!
Edmund G.
30/06/2022

5
/5
This item was bought to supplement a similar set which I bought some time ago and have used a lot, having found it very satisfactory and convenient.
Jennie H.
30/06/2022

5
/5
Perfect.
Cheryl H.
30/06/2022

4
/5
A very small tin which contains basic colours. Paints blend well and are lightfast.