Sale!
You save 39%
You save £3.50
Out of Stock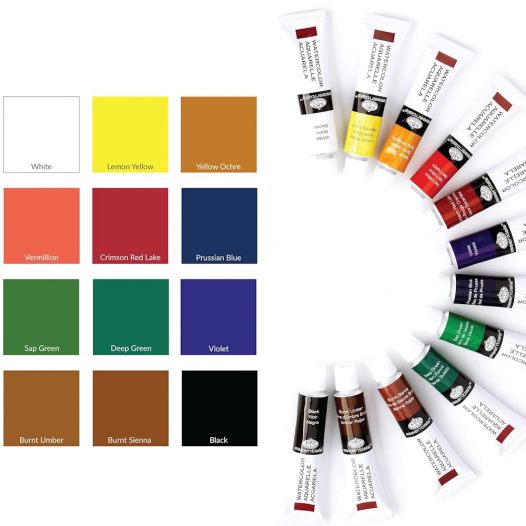 An ideal set for newcomers to Watercolour painting
Contains 12 x 12ml Watercolour tubes
Includes an additional 2 x Synthetic brushes
Smooth, highly pigmented & vibrant colours
Featuring strong transparency & tinting strength
The perfect introductory set of Watercolour paints from Royal & Langnickel's high-quality & cost-effective Essentials range.
Containing 12 tubes of Watercolours designed specifically for those looking to learn the medium.
Featuring a smooth consistency, each colour is highly pigmented & offers vibrancy, excellent coverage, transparency & tinting strength.
To ensure you have the best possible start on your Watercolour painting journey, this set also includes 2 additional short-handled, soft & absorbent synthetic bristle brushes. 
Contents
12 x 12ml Watercolour Paint Tubes
2 x Synthetic Bristle Brushes
Colours Included
Crimson Red Lake
Vermillion
Lemon Yellow
Sap Green
Deep Green
Prussian Blue
Violet
Yellow Ochre
Burnt Umber
Burnt Sienna
Black
White