Sale!
You save 50%
You save 50%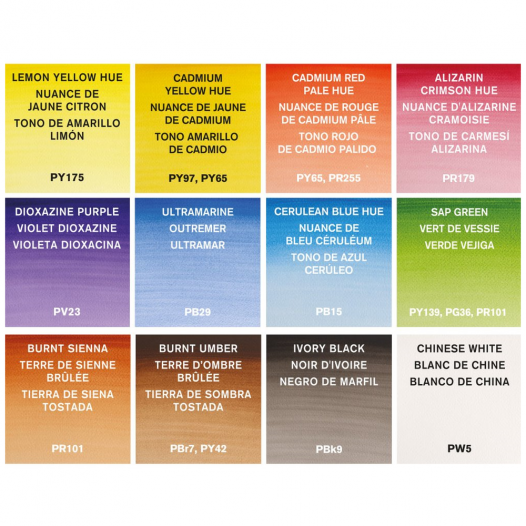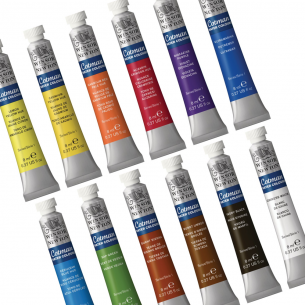 The perfect introduction to Cotman Watercolours
12 brilliant colours in 8ml tubes
High quality pigments at an affordable price
Great for larger applications of colour
Please Note: Outer packaging may differ
More than any other medium, watercolour relies upon the variable characteristics of the pigments used. Offering a carefully chosen spectrum of 40 colours, Winsor & Newton's Cotman Water Colours have been created using high-quality pigments at affordable prices. This introductory set includes 12 x 8ml tubes of Cotman Watercolour paints that are ideal for newcomers to watercolour painting.

Not Just New Packaging
Winsor & Newton have updated all of their paints & pads, giving them a much more refined look, to fit with today's current aesthetic.
This isn't all though... not only have they given themselves a new "coat of paint", they've chosen to also provide a whole new palette of colour options, with some colours or shades changed in their various sets.
For this 12 Tube Collection, these new tones are in bold below, along with which colours they replaced in this brand new update!
Lemon Yellow Hue, Cadmium Yellow Hue, Cadmium Red Pale Hue, Alizarin Crimson Hue, Dioxazine Purple, Ultramarine, Cerulean Blue Hue, Sap Green, Burnt Sienna, Burnt Umber, Ivory Black & Chinese White.
Prussian Blue replaced by Dioxazine Purple

Viridian Hue replaced by Sap Green 

Yellow Ochre replaced by Lemon Yellow Hue 
What is watercolour?
Watercolour is produced by the combination of a pigment with a binder, usually Gum Arabic. This is then applied, with water, to a support such as watercolour paper. The pigment fixes to the support upon evaporation of the water. Click here for further product information on Winsor & Newton's Water Colour range.
Watercolours are water-based, so brushes used to apply the watercolour paint need only mild soap and water to clean them after use. This video illustrates how simple it is to clean and care for watercolour brushes.
Which is better: tube watercolour or half pans?
There is no difference in quality between tube watercolour and half pans, the difference is in the application. Designed for ease of travel, half pan colours are perfect to use on the go. Half pans are popular with artists who paint infrequently, as the paints may be left for a long periods of time between uses, without affecting their quality.
One of the main features of the tubes is controlled measurement of use, applying as little or as much as required by the artist. Big spaces are more easily covered using tube water colour than when using a half pan.
Which surfaces best support Water Colour?
When choosing a watercolour surface, it is important to consider the absorbency, colour and stability of the paper. Our range of Watercolour Paper & Pads offers an extensive choice of size and style, to meet artists' every requirement.
Which brushes are best for watercolour painting?
Watercolour painting requires the brush to hold large amounts of water and paint. Natural hair brushes, particularly Red Sable brushes, tend to be favoured by artists working with watercolour. With a middle body able to hold a good reservoir of colour, Sable hair has excellent spring and resilience. The hairs are particularly strong at the brush's fine tip, allowing the brush to be used both delicately and aggressively. Advancements in the production of synthetic hair have resulted in a rise in popularity of Synthetic Watercolour Brushes, especially if price and durability are an issue.
Which techniques work best with watercolour?
The following links show some new techniques on how watercolours can be used:
Techniques For Contemporary Water Colour
Focus On Water Colour Illustration Techniques

Who are Winsor & Newton?
In 1832, William Winsor and Henry Newton introduced the first moist water colours to the world. Today, Winsor and Newton remain the premier choice for artists, offering a wide variety of fine art supplies including: oil, water colour, acrylic and alkyd paints, pastels, artists' brushes, canvases, papers and portfolios.
Lynn B.
06/06/2023

5
/5
Great price for the Cotman paints that I already use and am happy with. Good for beginners to watercolour.
Henriette M.
02/01/2023

5
/5
Just what we needed
Bill J.
17/10/2022

5
/5
As to be expected from aa first class manufacturer. Delighted with the quality.
Helen R.
01/08/2022

4
/5
Good product
Anonymous A.
13/07/2021

5
/5
These items I ordered Are For Xmas & His Birthday Jan 16
Anonymous A.
12/04/2021

4
/5
Still experimenting but seems ok so far
Anonymous A.
25/02/2021

5
/5
Excellent quality and a good selection of colours
Anonymous A.
08/02/2021

5
/5
Good value for money watercolours
Anonymous A.
06/11/2020

5
/5
I bought this as a gift, so I haven't painted with the set. However, Windsor & Newton products are very good and I see no reason why these paints would be an exception to that! The price was right from Cowling & Wilcox, too.
Anonymous A.
14/10/2020

5
/5
Excellent.
Anonymous A.
23/07/2020

5
/5
Up to Winsor and Newton standards
Anonymous A.
14/03/2019

5
/5
I bought these to try liquid watercolours, moving away from the blocks. They are great to work with and I would recommend anyone try them.
Anonymous A.
22/11/2018

5
/5
Good value
Anonymous A.
05/08/2018

5
/5
Great value!
Anonymous A.
22/05/2018

5
/5
Fine