Sale!
You save 46%
You save £34.01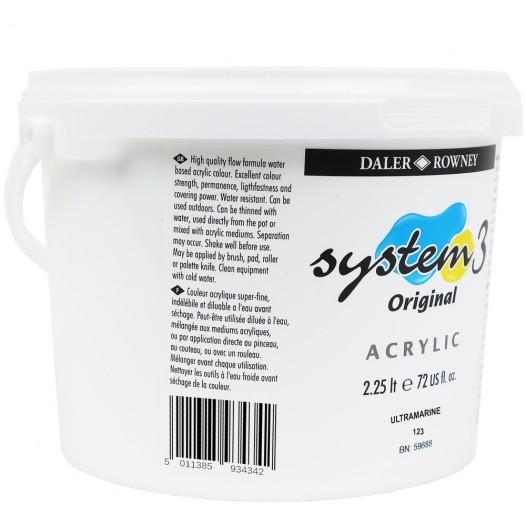 Pick Colours
Individual 2.25ltr pots of high-quality acrylic paint
Translucent plastic pot ensures colour visible at a glance
Easy access, air-tight seal with a screw-top closure
Richly pigmented, water-based formula
Wide range of opaque & semi-opaque colours
Smooth binder provides medium body consistency
Versatile, suitable for indoor & outdoor use on multiple surfaces
Available in several individual sizes & various sets
System 3 from Daler-Rowney is a complete suite of high-quality, fully compatible & intermixable products including paints, mediums, brushes & surfaces that have been developed for all lovers of acrylic, regardless of experience.
System 3 Acrylic Paints are the staple of this range, revered for their consistency, covering power & versatility.
Featuring rich pigments, the impressive selection of both opaque & semi-opaque colours available are not only incredibly lightfast, but can be effortlessly blended to achieve any tone directly from their container or thinned with water to suit your own preferences.
Quickly drying to a water-resistant finish, they're equally suited to both indoor & outdoor use with more traditional surfaces (canvas, paper, wood etc.), along with textiles, glass, plastic & murals.
Designed for convenience, the clear, flexible pot enables you to identify any specific colour at a glance, along with how much you have available at any given time.  The flip-top design of the lid is easy to open, whilst still creating an air-tight seal when closed, indicated by a small click sound for reassurance.
Wayne H.
03/12/2022

5
/5
Super value compared to the high street prices!
Anonymous A.
21/03/2021

5
/5
Excellent
Anonymous A.
01/08/2020

5
/5
Great value for money.
Anonymous A.
18/02/2019

5
/5
excellent quality and value for money
Anonymous A.
06/06/2018

5
/5
great bargains and sales.
Anonymous A.
28/03/2018

5
/5
Excellent paint -Speedy service.
Anonymous A.
22/03/2017

5
/5
Amazing value for money
Anonymous A.
18/01/2017

5
/5
A satisfactory White.
Anonymous A.
16/09/2016

4
/5
long lasting & keeps its shape well