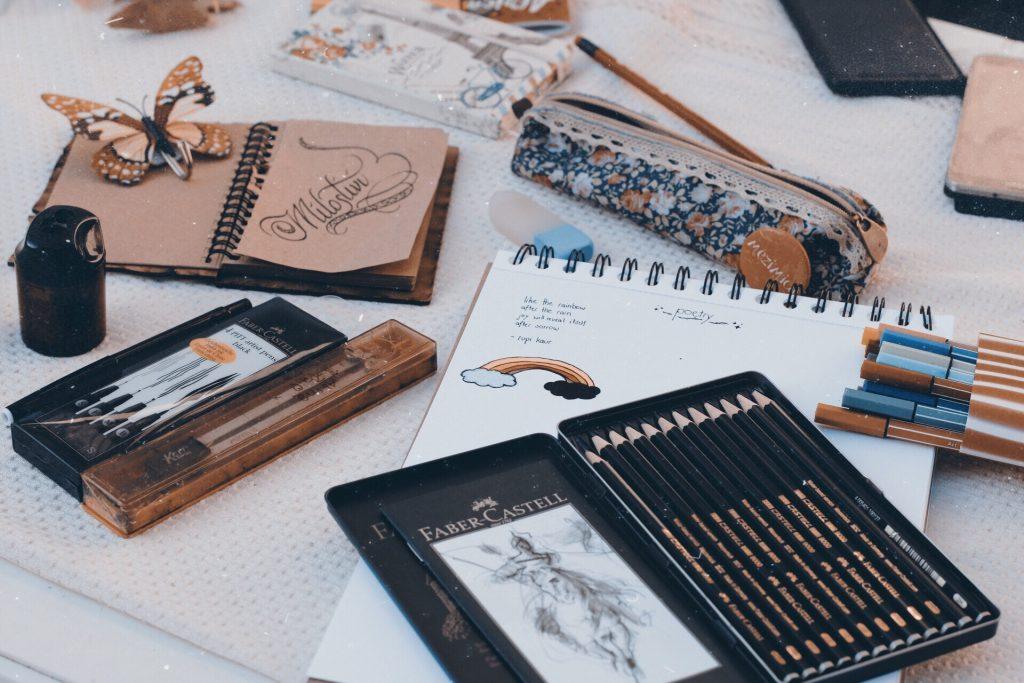 Drawing is an art form that is accessible to everyone. Bold shades and depth of colour is not limited to wet mediums. Sketching is an effective and affordable way to create gorgeous landscapes, stunning portraits, and meticulous still lifes. While anyone can pick up a pencil and paper, it's worth getting the right equipment for effective pencil sketching to ensure you can fulfil your creative ambitions. 
Whether you're an experienced artist looking for a new way to create or a beginner to the world of art, having everything you could need in your sketching tool kit is a great place to start. A sketching kit for beginners doesn't have to cost you a fortune – with our tips, you can collate a quality and comprehensive tool kit without breaking the bank.
Graphite Pencils: Range of Pencil Grades
It's a no brainer that your sketching tool kit should include a range of grades of graphite pencils. Grades refer to how soft the pencils are, graded from hard (marked with H) to soft (B). The grades run from 9B, the softest & darkest grade all the way to 9H, hardest & lightest in tone. The standard pencil grade is HB, which is the middle grade across the board. Softer pencils (B-9B) transfer more graphite with a lighter touch & smudge much easier, allowing for more blended, tonal work. The harder options (H-9H) create clear lines, if you're looking for more definition (but are more likely to scratch your surface!).
The extent of your range will entirely depend on your style of drawing. If you prefer to create light and airy sketches, creating shadows through cross-hatching, lighter pencil grades (2H, H, F, HB, B, 2B) will likely suit your style. On the other hand, if you aim to create dramatic sketches with great depth of field, a larger range (for example, 2H – 8B) will work to allow a wider range of pencil tones. 
For more specific needs, such as portraiture or natural landscapes, you may need a smaller range of pencil grades. For example, the B grades work for creating soft lines & effects, whilst H grades are perfectly suited for more detailed, intricate or technical work such as architectural images. What you need will depend on the type of artwork you wish to create.
Luckily, if you are looking for a sketching kit for beginners, we stock a great range of pencil tins from a variety of brands that have a range of pencil grades already included. This Pencil 9000 Art Set of 6 Pencils from Faber-Castell is a great option for beginners, including a quality range of graphite grades for a broad sketching capability.
Charcoal Pencils, Sticks, or Liquid
For a wider range of richness of line, artists should look to include charcoal in their sketching tool kits. Charcoal is made from carbonised wood and is available both in sticks and in pencils, which have different qualities. Sticks are usually compressed, allowing light marks as well as darker tones. Sticks are available in charcoal sets, like this Jakar compressed charcoal set, with a range of thicknesses, and they can create loose feathery marks as well as finer detailed marks. 
Willow charcoal is another form of charcoal, which is a completely natural product created from carbonised natural willow branches. You can produce a wide range of grey tones with Willow charcoal, and sketching with it is incredibly freeing as their marks can be erased with little effort. You can browse our range of willow charcoal, like this set of 30 Willow Charcoal Sticks from Coates.
In addition to these dry forms, charcoal can also be used in liquid form. Working with Liquid Charcoal is an excellent way to create a piece of artwork with a range of tones. You can work and rework liquid charcoal with a touch of water, as well as work into your dry liquid charcoal with other dry forms of charcoal.
To observe the capabilities of charcoal, take a look at our top 5 charcoal artists.
Pens or Fineliners
Detailed artworks require smaller, more uniform marks than pencils can produce. For those detail-obsessed among you, your artist sketching tool kits would not be complete without a fine-nibbed pen or fineliner. These can be found in a range of shapes and sizes, and can all create consistent, fine, and smooth marks on your drawings. 
Pencil Sharpening Tool
To keep your graphite pencils in good form, you will need to sharpen the ends of the pencil. You may even need to use a sharpening tool before you can use your pencils for the first time, as they often arrive with no pointed end. While a pencil sharpener will be necessary, many sketching kits (like this Essentials Sketching Kit from Royal and Langnickel) will include a pencil sharpener. 
However, the best way to sharpen artist graphite pencils with wooden barrels is with a utility blade or small craft knife. To ensure you are taking the best care of your graphite pencils, you should include a suitable blade in your sketching tool kit. 
Erasers or Rubbers
It's a good idea to include an eraser in your sketching kit. Erasers are excellent not only for mistakes but also for blending softer graphite shades. By correctly using them, you can hide lines left by a pointed pencil head to create a more lifelike still life or portrait. 
A popular tool for many pencil artists is the putty rubber, like this Winsor & Newton Kneadable Putty Rubber. These are erasers that can be shaped and moulded however you need, which is ideal for erasing small mistakes, sharpening edges, or even adding highlights to your sketches. Putty rubbers are effective on any drawing medium and refrain from smearing graphite or charcoal across your page.
Cowling & Wilcox stock a huge range of sketching tools and surfaces. Browse our brands for professional quality products at affordable prices.
< Back to blog