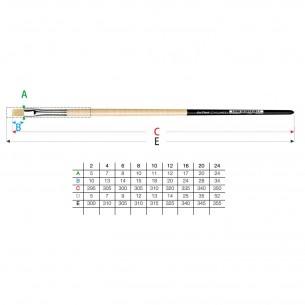 Range of sizes available
Sold individually
Media:  Oil / Acrylic
Fibre:  Synthetic Hog Hair
Head:  Bright / Flat
Ferrule:  So-Called Silver
Handle:  Long, natural with black ends & polished finish
Chuneo from Da Vinci is a revolutionary range of brushes designed to emulate "Hog Hair" bristles using 100% synthetic fibres.
Vegan, cost-effective, durable, easy to clean & available in several sizes and styles, these are a truly environmentally conscious alternative without sacrificing quality.
The 7129 Bright brushes feature Bright shaped bristles.
Although visually similar to a Flat brush, the shorter length allows for greater control over their bold, defined strokes, 
providing new opportunities for experimentation.
Anonymous A.
16/03/2022

5
/5
good brush with hard type bristles, great for stippling effect on trees,bushes