Sale!
You save 20%
You save 20%
Out of Stock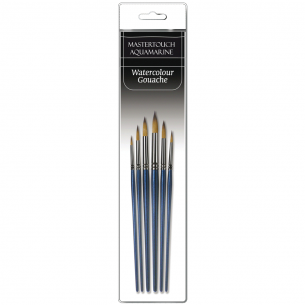 Bristles: Synthetic
Brush Tips: Round
Contents: 8 x assorted*
An exclusive set of watercolour brushes
Each brush features a Round-shaped tip
Includes a selected variety of sizes
Short blue handles & brass nickel ferrules
Synthetic, natural looking bristles with darkened tips
Suitable for liquid mediums such as watercolour or ink
*please refer to Contents below
Exclusive to Cowling & Wilcox, this set from Pro Arte includes 8 round-tipped brushes ideal for a variety of watercolour & liquid medium applications.
Featuring highly absorbent, flexible filaments with a dark tipped natural look, along with high-quality brass nickel ferrules & stylish, short blue handles for additional control.
Each brush included has a round-shaped tip with a fine point, making them ideal for a range of techniques including fine details, applying washes or even producing both fine & broad strokes as needed.
Suitable for watercolour, they can also be used for inks, gouache & even acrylic colours (if they have been thinned effectively).