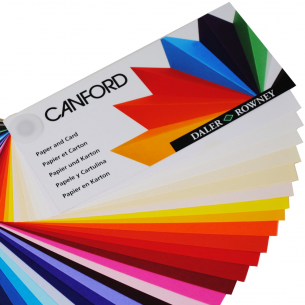 Pick Colours
150gsm
Standard A1 size
Packs of 10
Ideal for a wide variety of applications
Ideal for presentation and display in every setting, from professional design studio to school art projects, Daler-Rowney Canford Coloured Paper is an acid free, high quality paper, available in a variety of different colours.
Why choose Daler-Rowney Canford Paper?
An incredibly versatile material, Canford Paper can be used for paper sculpture and modelling, as well as decorative arts, collage and craft projects.
Who are Daler-Rowney?
Established in 1783, by Richard and Thomas Rowney, Daler-Rowney has been manufacturing the finest art materials for over 230 years.
In 1963, Rowney became the first manufacturer in Europe to introduce artists' acrylic colour.  Widely used by artists, including well-known proponents Peter Blake and Bridget Riley, throughout the 1960s and 1970s, Rowney's "Cryla" heralded a new era in art practice, which became known as 'Pop Art'.
In 1983, the Daler Board Company purchased the George Rowney Company, forming Daler-Rowney Limited, as the company is known today.  Daler-Rowney now operates from three manufacturing bases, two in the UK and one in the Dominican Republic, where their artists' brushes are made.
Gillian L.
15/09/2023

5
/5
The card arrived with no creases and a pleasure to work with even though a large size! Thank you
Susan W.
05/12/2022

3
/5
Ok thinner than expected
Anonymous A.
05/07/2021

5
/5
Perfect for covering tatty A1 boards. They now look like new and ready for displaying photographs.
Anonymous A.
13/10/2017

4
/5
Good quality.
Anonymous A.
26/08/2017

5
/5
Paper is to be used for hand made books. It is a consistent quality and colour
Anonymous A.
22/03/2017

5
/5
Good quality specialist paper