Sale!
You save 32%
You save £3.76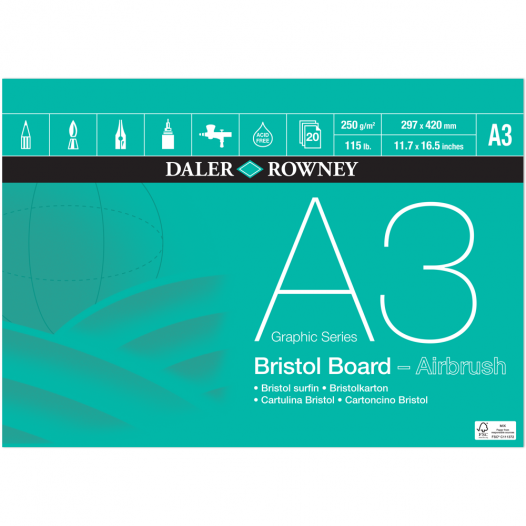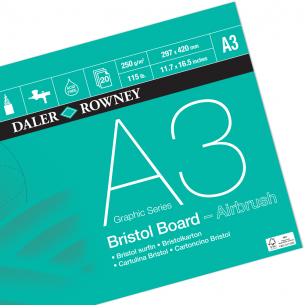 20 sheets
250gsm
Extra smooth surface
Use with pencil, ink and brushes
Ideal for airbrush use

Available in A3 & A4 sizes
These fantastic Bristol Board Pads from Daler-Rowney contain 20 sheets of 250gsm card with an extra-smooth surface. This combination of thickness and smoothness gives you exceptional results when using a whole range of techniques. 

When you're drawing with graphite, you'll find that blending is beautifully smooth, and you can rub areas out without damaging the surface. The card in Daler-Rowney Bristol Board Pads takes watercolour washes well, and is also ideal for airbrush work, while the gummed binding means it's easy to remove the sheets easily and cleanly. Bristol Board Pads are available in two sizes: A3 and A4.
Brenda G.
25/09/2023

5
/5
Fantastic drawing surface
Kirsty B.
03/12/2022

5
/5
Perfect for blending
Anonymous A.
29/04/2022

5
/5
The best board for the graphite drawing I do.
Anonymous A.
19/01/2022

5
/5
The product is of good quality and arrived safely and well packaged.
Anonymous A.
04/08/2021

5
/5
My preferred Bristol Board, used for high-resolution scanned artwork.
Anonymous A.
22/07/2021

5
/5
This is what I use for airbrushing, thick card, excellent quality.
Anonymous A.
25/02/2021

5
/5
It's fancy paper, especially good when working with ink
Anonymous A.
01/02/2021

5
/5
Good quality drawing paper.
Anonymous A.
14/09/2020

5
/5
Beautiful feel to this. Lovely and smooth for copperplate calligraphy.