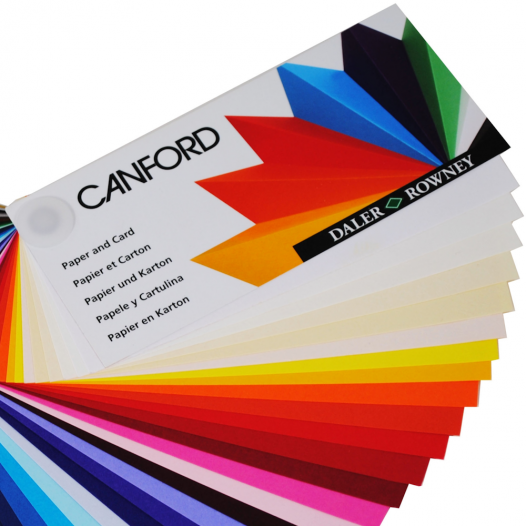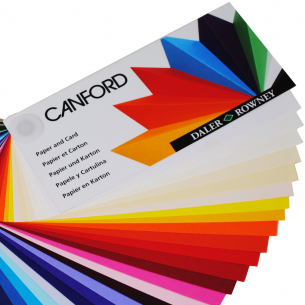 Pick Colours
Packs of 10
High quality coloured card
300gsm
Acid free
Ideal for a wide range of applications
Video: Daler-Rowney Canford Card
Canford Coloured Card from Daler-Rowney is a high-quality, stiff card available in a wide range of brilliant matt colours, perfect for presentation and display purposes, as well as paper sculpture and craft.
It's an exciting and versatile medium in its own right and is popular with enthusiasts of decorative arts – it's easy to cut, curve, crease and emboss, perfect for creating three-dimensional works of art. Each sheet is nice and thick with a weight of 300gsm, and they come in quantities of 10.
Colour Chart: Daler-Rowney Canford Card
Why choose Daler-Rowney Canford Card?
Available in A4 and A1 sizes, Daler-Rowney Canford Card is easy to cut, curve, crease and emboss. An incredibly versatile material, Canford Card can be used to create 3D art, such as sculpture and modelling, as well as decorative arts, collage and craft projects.
Who are Daler-Rowney?
Established in 1783, by Richard and Thomas Rowney, Daler-Rowney has been manufacturing the finest art materials for over 230 years.
In 1963, Rowney became the first manufacturer in Europe to introduce artists' acrylic colour.  Widely used by artists, including well-known proponents Peter Blake and Bridget Riley, throughout the 1960s and 1970s, Rowney's "Cryla" heralded a new era in art practice, which became known as 'Pop Art'.
In 1983, the Daler Board Company purchased the George Rowney Company, forming Daler-Rowney Limited, as the company is known today.  Daler-Rowney now operates from three manufacturing bases, two in the UK and one in the Dominican Republic, where their artists' brushes are made.
Anonymous A.
25/02/2022

4
/5
I expected olive card only and redeived a mixed pack with only one sheet of olive.
Anonymous A.
28/07/2017

4
/5
Great tactile feel, perfect for what I needed.
Anonymous A.
23/03/2017

5
/5
Reliable card for crafting.