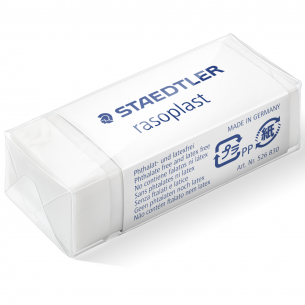 Use at home, school or in the office
PVC and latex free
Minimal crumbling
Perfect for pencil cases
Measures 43 x 19 x 13mm
Video: Staedtler Eraser Production
The Rasoplast eraser from Staedtler is a top quality eraser for office, school and home use. The Rasoplast is PVC and latex free for consistent, optimum erasing performance and minimal crumbling. Often write or draw in pencil? Make mistakes? Then you need these.
Their size is perfect for pencil cases, measuring 43 x 19 x 13mm. They're great field trips or drawing outdoors and are excellent for cleaning graphite from watercolour paper. Each Rasoplast is supplied in a sealed cellophane pack with a cardboard cuff to help prevent slippage.
Fiona S.
31/07/2022

5
/5
Erases cleanly.
Anonymous A.
24/02/2021

4
/5
works well
Anonymous A.
11/02/2021

5
/5
another very good everyday product.
Anonymous A.
06/10/2018

5
/5
Does the job
Anonymous A.
21/02/2018

3
/5
It's an eraser
Anonymous A.
23/10/2016

5
/5
good rubber