Sale!
You save 34%
You save £7.00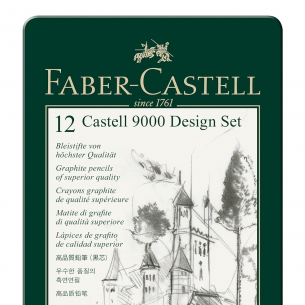 Assorted set of 12
Harder grades, suited for technical applications
Convenient, compact & sturdy metal tin
Professional-quality graphite pencils
Ideal for sketching, drawing & writing
Extra break-resistant leads due to SV bonding
Carbon-neutral production methods
Made using wood from sustainable forestry
Coated in an eco-friendly water-based varnish
Art Set also Available
First developed in 1905, the Castell 9000 graphite pencil range from Faber-Castell is a true classic & a staple found in the collections of artists, illustrators, writers & various professionals across the world.
Collected together in this set are 12 pencils in an assorted range of grades from 5H - 5B for technical applications such as adding fine details & light linework to architectural plans or fashion illustrations.  The attractive metal tin provides a compact storage solution & reliable protection during transit.
Fully bonded with the wooden barrel & coated in a strong, water-based varnish, they're practically break-resistant for a longevity almost unheard of amongst art materials of their quality.
Also available individually in 16 finely graduated degrees of hardness from 8B - 6H, the range of hues (from a delicate grey to a deep black) making them ideal for all technical or artistic application & techniques.
MICHAEL C.
16/08/2023

5
/5
Another lovely quality set of pencils
Michael F.
04/02/2023

5
/5
The statement for the Art Tin of 12 goes for this too. These are always excellent pencils, with the bonus of an excellent price.
Anonymous A.
28/03/2019

5
/5
Great quality pencils , perfect for all I need
Anonymous A.
24/05/2018

5
/5
Great for sketching