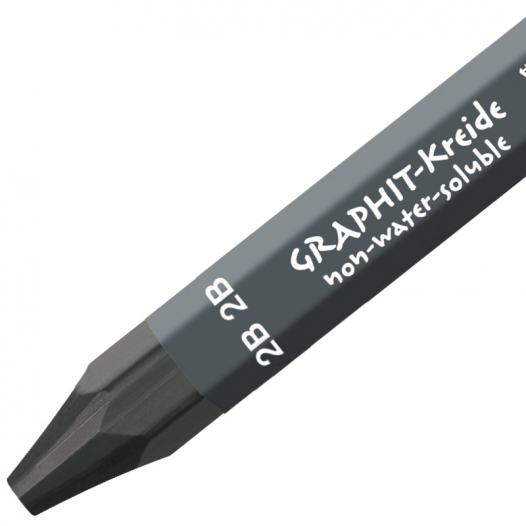 Pure, solid graphite
Ideal for sketching and shading large areas
Paper-wrapped
3 shading degrees
Can be sharpened with a pencil sharpeners
Will not mark fingers when in use
Perfect for sketching and shading large areas, each Lyra Graphite Crayon is pure graphite, which can be sharpened with a pencil sharpener.  Paper coated, these solid sticks of graphite will not mark fingers during use. 
What is Graphite?
A non-toxic form of carbon, graphite is not in fact lead; the misnomer arose when it was first discovered, and mistaken for lead. Equally suitable for drawing or writing, Graphite produces durable markings, resistant to moisture, ultraviolet radiation, and natural aging, which can be easily removed with an Eraser.
What do the grade letters mean?
Lyra Graphite Crayons are graded according to the HB scale, where "H" indicates the hardness of the lead, and "B" represents the blackness of the mark it will make. Graphite is also designated a number, to show the level of these grades. For example, a 4B graphite lead produces a darker mark than a 2B one, and the lead of 3H graphite is harder than that of an H grade.
There is no industry standard for implementing the HB scale, meaning that a 2B lead from one brand will not necessarily leave the same mark as a 2B lead from another brand.
Why use Lyra Graphite Crayons?
Available in three grades: 2B, 6B and 9B, Lyra Graphite Crayons measure 12cm in length, and 1.2cm in diameter, making them ideal for covering large areas, and adding depth to drawings. Lyra Graphite Crayons are suitable for use with a variety of supports, including our Sketchbooks and Paper and Pads.
Who are Lyra?
Part of the Italian FILA Group since 2008, Lyra was founded in Nuremberg, Germany in 1806. A specialist producer of pencils and pastels, Lyra continues to manufacture from two factories in Germany, selling more than 70 million pencils each year.
Allan C.
06/09/2022

5
/5
Great for blocking out areas when sketching
Anonymous A.
21/04/2020

5
/5
Great graffite
Anonymous A.
17/01/2019

4
/5
Not used yet, but seem fine
Anonymous A.
27/10/2018

5
/5
Great quality
Anonymous A.
22/09/2018

5
/5
Handy
Anonymous A.
04/08/2018

5
/5
Lovely chunky crayon
Anonymous A.
25/05/2018

5
/5
Good for working in bigger areas.
Anonymous A.
28/10/2016

5
/5
Excellent quality, very good value for money.