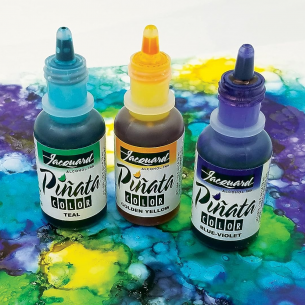 Pick Colours
Size: 15ml
Colours: 27
Sold Individually
High-quality alcohol-based ink
Acid-free, transparent & vibrant dye-based colours
Once dry, colours are impervious to water
Suitable for paper, card, glass, metal, plastic & more!
Designed with the discerning artist in mind, the highly saturated & water-resistant Piñata Color alcohol ink range from Jacquard is an extremely versatile, artist-quality ink available in 27 individual colours, 2 mediums & several sets.
Once dry, they're exceedingly water-resistant, but can be cleaned & reactivated with application of alcohol (or a suitable medium), allowing for unique effects & techniques not as easily achievable with standard water-based inks.
These versatile inks are produced using the most lightfast dyes for an unrivalled vibrancy whether you're applying them to paper, card, glass, metal, plastic, ceramic, stone, leather, polymer clay & more!
We recommend trying them out on our YUPO pads, they're available in 2 sizes & are especially suited to ink applications!
Rita S.
19/12/2022

5
/5
They are easy to use and a great variety if colours
Anonymous A.
04/03/2022

5
/5
These are my go to alcohol ink, the colours are stunning!