Sale!
You save 41%
You save £27.50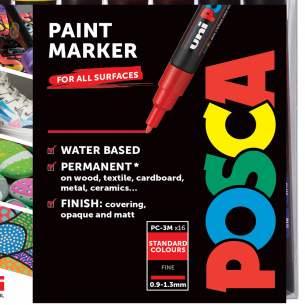 Nib: PC-3M
Nib Size: 0.9 - 1.3mm
Nib Shape: Fine Bullet
Colours Included: 16
High-quality, water-based paint markers
Lightfast, matt, opaque & water-resistant
Stable pigments with strong UV resistance
Permanent on porous surfaces (wood, textiles etc.)
Erasable on non-porous surfaces (glass, plastic etc.)
The quintessential creative tool amongst connoisseurs, the POSCA PC-3M features a versatile medium-sized tip for lines between 0.9 - 1.3mm.
Easily create precise, confident strokes ideal for a broad range of creative endeavours from adding colour to plans, scrapbooking, card making, decorating photographs & personalising furniture, clothing & equipment.
Unlike traditional marker pens, the tip of the PC-3M can be removed & washed at any time, along with being reversible for a longer lasting marker.
Bringing together 16 of the most popular, best-selling colours in the range, this set is a fantastic, cost-effective method of enjoying these fine markers.
Please check the "Contents" tab below for an itemised colour list.
POSCA Range
With a total of 66 colours, 8 line widths & 5 nib shapes, POSCA markers make it easier than ever to produce bold, beautiful work on almost any surface including fabric, glass, metal, paper, card, wood & stone!
Acid-free & richly pigmented, their uniquely opaque water-based paint is fully intermixable (when wet) & dries quickly for a matt water-resistant finish that can be varnished, layered and more. 
Each marker also features a small internal ball in their barrel that works to effectively mix the paint itself (similar to a spray paint can) & the hardwearing tips are made using wear-resistant acrylic or plastic.
In fact, a number of these tips are also washable & replaceable (PC-1MC, PC-3M, PC-5M, PC-7M, PC-8K & PC-17K) or even reversible (PC-3M & PC-5M) for a longer lasting marker.
How do I activate my new POSCA marker?
Patricia N.
30/06/2023

5
/5
Excellent starter kit in a range of basic colours which can be added to from the Posca paint marker range of colours.
Anonymous A.
23/04/2019

5
/5
Great pens and good colour range in this pack