Sale!
You save 19%
You save £2.26
Out of Stock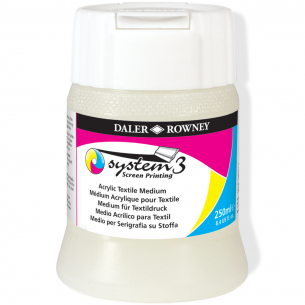 Convert acrylic colours into textile printing inks
Extends the drying time of acrylic colour
Retains colour vibrancy & brilliance
Suitable for use with cotton, silk & synthetic fibres
Part of the System3 range from Daler-Rowney, this medium converts standard acrylic colours into screen printing inks suitable for a variety of textiles.
When mixed 1:1 with System3 Acrylic Colours the medium remains open on the screen providing strong colours, detailed definition & robust colour fastness for over 20+ washes (approximately).  Additionally, this medium effectively slows the drying time of acrylic colours, allowing for a longer working period & avoiding potential delays during a print run.
Although suitable for a variety of acrylic colours, the medium is most effective when paired with other System3 materials thanks to their density of colour & pigmentation.
The user-friendly 250ml pot is soft & transparent, the airtight lid features a flip-top closure that opens & closes with a satisfying "click", so you can be sure they're sealed every time.
System3 Screen Printing Textile Acrylics are also available, click here to view!
Video: Screen Printing With Daler-Rowney System 3 Acrylics
Directions
Mix 1:1 with System 3 acrylic paint.
Once dry, iron on reverse of fabric to set
System3 Acrylic Colours
Aimed at making acrylic painting more accessible, affordable & straightforward than ever before, the System3 range from Daler-Rowney is a complete suite of high-quality, intermixable materials including paints, inks, mediums, brushes, surfaces & more!
The staple of this range, recognised for their consistency, versatility & covering power are the iconic System3 Acrylic Colours.  These undeniably versatile paints are available in several variations including Soft, Medium & Heavy Body, along with the newer Fluid Acrylic Colours.
Made using a combination of high-quality, incredibly concentrated pigments with a smooth acrylic binder, the 54 available colours feature a range of lightfastness & opacities.  Effortlessly mix colours, tones & shades directly from the tube, or use a medium to achieve some amazing effects!
Suitable for a number of surfaces including canvas, paper, wood, glass, plastic & textiles & drying quickly to a water-resistant, semi-gloss (satin) finish, they can be applied  both indoors & outdoors.
Anonymous A.
26/01/2022

5
/5
Good value, clear instructions on the tub
Anonymous A.
24/05/2019

5
/5
Great product for silk screening into fabric
Anonymous A.
29/03/2018

5
/5
Brilliant product
Anonymous A.
29/03/2018

5
/5
Great product did what I needed. I also bought a pad of paper which it what we expected, thank you
Anonymous A.
30/11/2017

5
/5
Mixed 1:1 with acrylic paints makes a good alternative to expensive textile paints or dyes. Better for applications like fabric for collage or 2D than clothing which has to drape, as unless watered down it can stiffen the fabric slightly. Easily heat set by ironing.
Anonymous A.
02/11/2017

5
/5
Fantastic! I love this product, strongly recommend
Anonymous A.
08/05/2017

5
/5
Great product