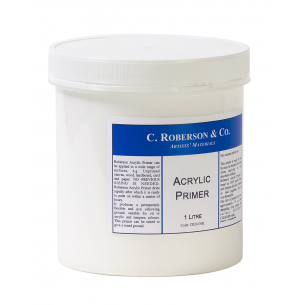 1 litre of matte white primer
Quick drying, non-yellowing
Flexible, requires no sizing
Suitable for oil, acrylic & tempera colours
Made using acrylic resin & titanium dioxide
Non-yellowing, thick & opaque, this professional-grade acrylic primer from Robersons is made using a specific formula of acrylic resin & titanium dioxide that creates a matte white, absorbent surface suitable for oil, acrylic & tempera colours.
Incredibly versatile, able to create a flexible, absorbent layer on a wide range of surfaces & materials, including unprimed canvas, wood, cardboard, hardboard, card & paper without the need for sizing beforehand.
Long-lasting & quick-drying, a single litre is able to coat an area of around 14 square metres, drying within hours (even minutes, dependent on the thickness of said layer), at which point you can sand the surface to a texture of your preference.
Hints & Tips
It's best to apply 2 coats to most surfaces.

Dilute the 1st coat by 10% with water, for greater penetration into the surface.

Why not tint the primer by adding the relevant acrylic colour?