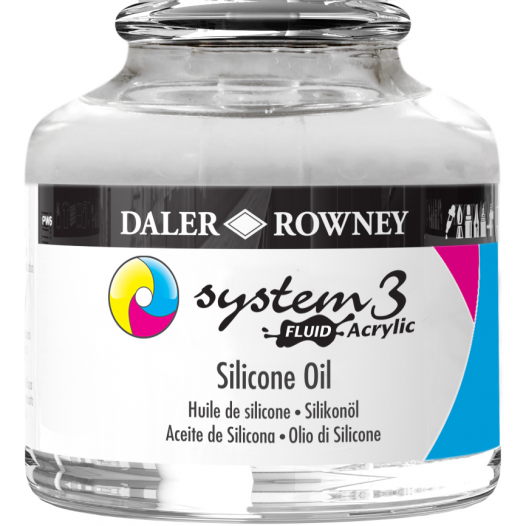 Size: 29.5ml
Colour: Clear
Additive for acrylic colours
Designed specially for pouring techniques
Easily form beautiful cells in your work
Dries to a waterproof, gloss finish
Self-levelling, non-tacky & non-yellowing
Thick-walled, clear glass bottle with tight seal
In-built pipette allows for accurate measurement & application
Part of the new System3 Fluid Acrylic Colour range, adding just a small amount of this straightforward, easy-to-use additive to your next acrylic pouring project will create beautiful cells, unique patterns & a variety of other amazing effects.
Whilst no two pours will ever be identical, you can enjoy a level of consistency thanks to the in-built pipette that allows for precise control over both the amount & placement of the additive during application.  Dries to a durable, high-gloss, waterproof finish.
System3 Acrylic Colours
Aimed at making acrylic painting more accessible, affordable & straightforward than ever before, the System3 range from Daler-Rowney is a complete suite of high-quality, intermixable materials including paints, inks, mediums, brushes, surfaces & more!
The staple of this range, recognised for their consistency, versatility & covering power are the iconic System3 Acrylic Colours.  These undeniably versatile paints are available in several variations including Soft, Medium & Heavy Body, along with the newer Fluid Acrylic Colours.
Made using a combination of high-quality, incredibly concentrated pigments with a smooth acrylic binder, the 54 available colours feature a range of lightfastness & opacities.  Effortlessly mix colours, tones & shades directly from the tube, or use a medium to achieve some amazing effects!
Suitable for a number of surfaces including canvas, paper, wood, glass, plastic & textiles & drying quickly to a water-resistant, semi-gloss (satin) finish, they're suitable for use both indoors & outdoors.