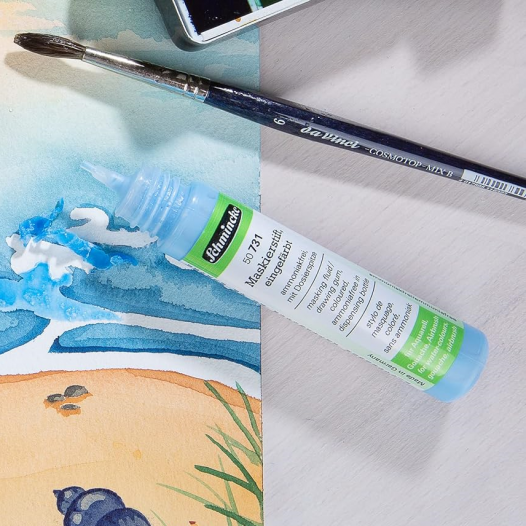 Size: 25ml
Colour: Blue / Coloured
Blue-tinted masking fluid
Designed for use with watercolour
Quick-drying, ammonia-free & odourless
Convenient fine-tipped dispenser bottle for precision
Applicator tip can be cleaned for reuse again & again
From Schmincke, this Coloured Masking Fluid Pen is designed for use with watercolours & allows for fine areas to be easily blocked out during work with a rubbery, water-insoluble layer that can be removed afterwards.
Quick-drying (dependent on thickness, between a few minutes to an hour) & completely ammonia-free, this synthetic resin product can be precisely dispensed directly from the fine-tipped applicator bottle.
Once dry, you're able to paint over these layers using watercolour before carefully rubbing (not peeling!) them from the surface to leave a clean, un-touched area.
Marcia R.
10/04/2023

5
/5
Masks effectively. Comes off cleanly even after 24h.
Julie H.
16/07/2022

5
/5
I like that you don't have to ruin a brush to use it. Great idea.
Anonymous A.
15/07/2020

4
/5
Not used yet but again, value for obey if it works.
Anonymous A.
18/01/2020

4
/5
Yet to use; not familiar with this kind of product.
Anonymous A.
28/03/2018

5
/5
Just love it! I've always hated using masking fluid because it's so messy to use and hard to get off. This is the best I've ever used . You can use it straight from the tube because the nozzle is quite fine, II also use a brush for fine marks. You simply wipe the nozzle and replace the cap when finished, It's an easy to see blue colour and lifts off very easily not taking any paper. I would highly recommend this product.
Anonymous A.
15/03/2018

3
/5
A bit runnier than others I've used
Anonymous A.
30/07/2017

5
/5
WORKS WELL!
Anonymous A.
15/06/2017

5
/5
Very versatile, narrow nib.
Anonymous A.
23/02/2017

5
/5
It works as described