Sale!
You save 20%
You save 20%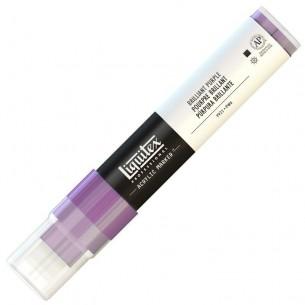 Pick Colours
50 colours
Acrylic paint
Intermixable with other Liquitex acrylic products
Permanent & lightfast
15mm chisel nib
An outstanding range of professional water-based acrylic markers, Liquitex Paint Markers offer the widest selection of permanent and lightfast brilliant colours. Incorporating a proven ball and pump valve system, to optimise paint flow, the Liquitex Paint Marker features a high quality, replaceable nib, ensuring precision control on application. 
Video: An Overview of Liquitex Paint Markers
Why choose Liquitex Wide Paint Marker?
Available in 50 colours, matching the spectrum found in the Liquitex Soft Body, Heavy Body and Spray Paint ranges, the Liquitex Wide Paint Marker delivers highly pigmented, water-based acrylic colour with ultimate precision. Also available with a 2mm Fine Nib, the Liquitex Paint Marker has been specially developed for optimum compatibility with other Liquitex products.
Are replacement nibs available?
The Liquitex Wide Nib Pack contains three replacement wide chisel nibs suitable for the Liquitex Wide Paint marker.
Who are Liquitex?
Founded in 1933 by Henry Levison, Permanent Pigments, an oil colour producing company from Cincinnati, Ohio developed the first water-based artist acrylic paints. Their new formulation was launched in 1955, under the new company name Liquitex, an abbreviation of "Liquid texture", which Levison believed better captured the product's essence.
Today, Liquitex offers a vast array of intermixable vibrant acrylic paints and mediums, enabling artists to continually explore new and innovative ways of working with Acrylic Colour.

Neil R.
11/11/2021

5
/5
Bought to compliment my existing markers. Delighted
Wendy P.
11/11/2021

5
/5
Excellent product for my scrapbooking and mixed media projects. Paint flows easily and dries shiny. Creates lots of different effects and is so easy to use and store
Anonymous A.
02/07/2020

5
/5
I really enjoy using them. They work for me.
Anonymous A.
08/05/2020

5
/5
I bought some of these a few years ago ,and was so pleased to find them on your website again.I've just completed a portrait with the new colours.They re brilliant.Thanks.
Anonymous A.
23/03/2018

5
/5
Very useful and handy product.
Anonymous A.
01/03/2018

5
/5
Love it
Anonymous A.
12/07/2017

5
/5
Excellent markers delivering great colour. Great to combine with other mediums.
Anonymous A.
14/03/2017

5
/5
Versatile usage