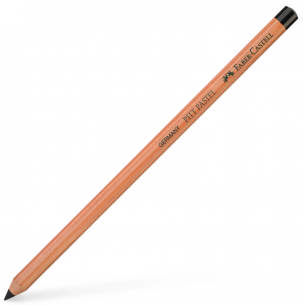 Pick Colours
Available in 30 brilliant shades
High pigment concentration
Oil-free and economical leads
Won't dirty your hands
Ideal for delicate colour transitions
Video: Faber-Castell PITT Pastel Pencils
Pitt artists pastel pencils from Faber-Castell, with their oil-free pastel leads, are used by artists not only as the perfect complement to pastel crayons for elaborating fine details, but also on their own. Many artists who enjoy pastel techniques and their versatility opt to use these wonderful pencils as they are dust free and do not dirty the hands.
Each pencil has a very compact lead which is economical to use and contains a high level of pigment, making the pencils ideally suited both to drawing lines and shading, as well as blending and merging into delicate colour transitions. The colour selection in this range places a particular emphasis on the muted shades and earth tones that are especially important for pastel drawing.
Click here to view the complete Faber-Castell art & graphic range colour guide.
Douglas J.
31/01/2023

5
/5
Decent price for the pencils and Fabre Castell are a good make also
Anonymous A.
03/11/2020

4
/5
The pastel pencils are good, maybe not top quality but good enough for my project. Not too expensive
Anonymous A.
14/12/2018

5
/5
Very good
Anonymous A.
27/09/2018

4
/5
I bought 8 pencils and 1 had issues, being shattered inside and having a split in the wood. This happens occasionally but it is why I did not give 5 stars. The pencils are joy to use and are of a harder soft pastel and less opaque than some others. Other than the one faulty one they were perfect.
Anonymous A.
19/05/2018

5
/5
Very good quality and very easy to sharpen.
Anonymous A.
16/03/2018

5
/5
Very good.
Anonymous A.
02/03/2018

5
/5
Exactly what I wanted
Anonymous A.
23/02/2018

3
/5
One pencil was broken in half but I didn't complain because I felt I got such a good deal on my purchases.
Anonymous A.
14/09/2017

5
/5
Good: it is the only [lace I have been able to get them as single items
Anonymous A.
15/08/2017

4
/5
Great for detailed work but tricky to sharpen to a fine point.