Sale!
You save 42%
You save £31.96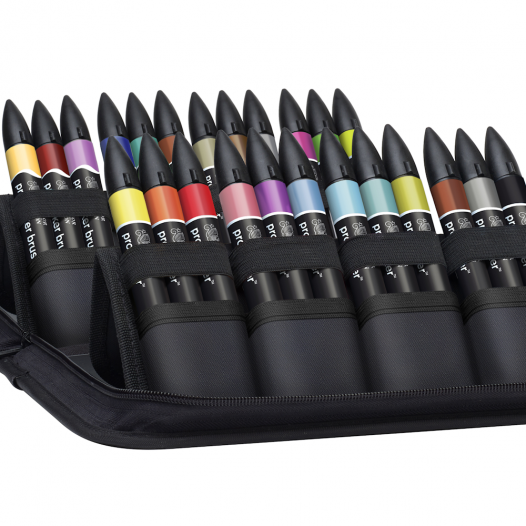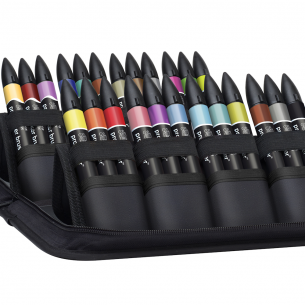 Colours: 24 x assorted
Plus: 1 x marker wallet
Refer to Contents tab for full breakdown
Professional illustration markers
Dual-tipped, each marker features 2 different nibs
Popular amongst students, artists, designers, illustrators & more!
Each range is also sold individually, please click the links above for more
Well known across the creative world, the Promarker range from Winsor & Newton is a professional-quality, dual-tipped collection of illustration markers available in several varieties, making it easier than ever to produce flawless, print-like results.
This incredibly varied set is the ideal introduction to the broader world of Promarkers, with examples from their Promarker, Brush, Neon & Metallic ranges, providing a robust palette of 24 colours to work with.
Arriving in a compact zipped Marker Wallet for convenient storage & transport, each Promarker Wallet set includes 24 markers specially curated to a particular use or technique, with options including Student Designer, Architecture and Arts & Illustration.
We recommend using a dedicated marker pad with this range, such as our very own YUPO pads.
Available in 2 sizes, these gummed pads include a specially developed, hardwearing synthetic paper ideal for dealing with even the most robust applications including alcohol, pigment & water-based inks!
As this set features a wide assortment of markers with both water-based & alcohol-based inks, please check the Contents tab below for a breakdown, full colour list & links.
Please Be Aware
Winsor & Newton are currently in the process of replacing their original packaging with environmentally conscious plastic-free alternatives & as such, the product may vary from the image provided.
Anonymous A.
02/09/2019

5
/5
High Quality, fair price, got it for an amazing offer for sale 50 %off, and I have already used some colors love them all, thank you for very fast shipping.
Anonymous A.
11/01/2018

5
/5
My 8yr old loves them. She's an avid drawer and says these are her best yet and she's had a few decent pens.
Anonymous A.
27/12/2017

5
/5
Lovely