Sale!
You save 42%
You save £31.96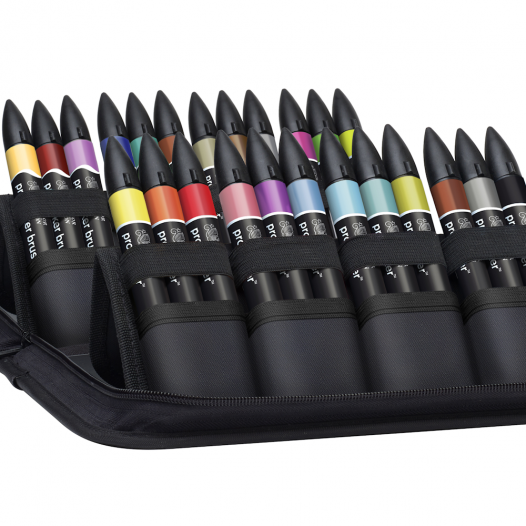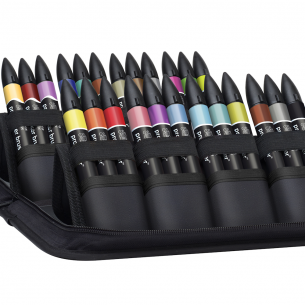 12 x ProMarker - Black, Warm Grey 4, Chesnut, Pear Green, Marine, Duck Egg, China Blue, Purple, Carmine, Poppy, Orange & Tulip Yellow
6 x ProMarker Brush - Saddle Brown, Ocean Blue, Wild Orchid, Egyptian Blue, Firebrick & Sunflower
3 x ProMarker Neon - Electric Pink, Glowing Green & Luminous Yellow
3 x ProMarker Metallic - Gold, Red Gold & Silver
1 x Black Storage Wallet
Video Series: Winsor & Newton ProMarkers
Expert, versatile and boasting an unrivalled colour spectrum, the Winsor & Newton ProMarker is a must-have, professional quality addition to your marker collection. The 25-piece Mixed Marker Set is ideal for illustrators looking for a strong spectrum of colours for a range of applications, and includes 12 ProMarkers, as well as three NeonMarkers, three MetallicMarkers and six ProMarker Brush colours.
All ProMarker and ProMarker Brush pens are twin-tipped, featuring nibs of a very high quality to ensure consistent, streak-free coverage. ProMarkers include a bullet shaped nib as well as a chisel shaped nib to create a variety of different strokes. ProMarker Brush pens feature the same bullet nib as well as a flexible brush nib for broader applications of colour. 
All of the pens included in this set are blend-friendly and contain malleable, alcohol-based, translucent ink. They are also skilfully versatile and can be used on ink-resistant surfaces such as acetate, glass, plastic and wood.

View the complete ProMarker colour chart

Anonymous A.
02/09/2019

5
/5
High Quality, fair price, got it for an amazing offer for sale 50 %off, and I have already used some colors love them all, thank you for very fast shipping.
Anonymous A.
11/01/2018

5
/5
My 8yr old loves them. She's an avid drawer and says these are her best yet and she's had a few decent pens.
Anonymous A.
27/12/2017

5
/5
Lovely