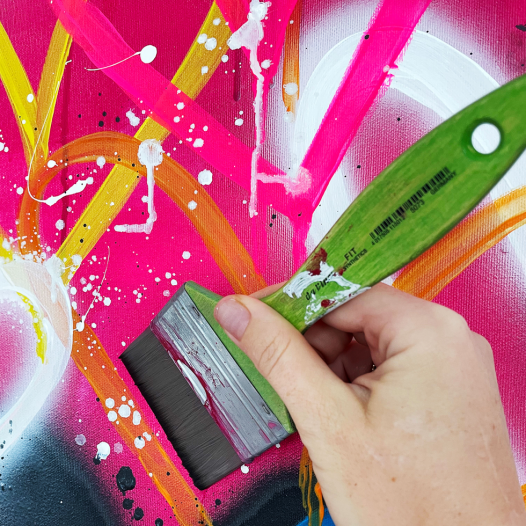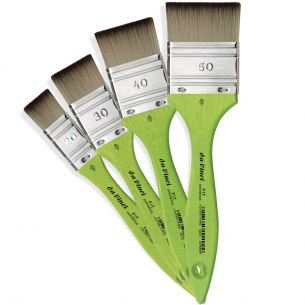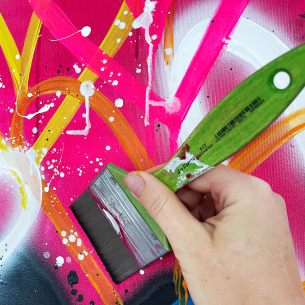 Available in four sizes
Recommended for students and hobbyists
Perfect for acrylic paints
Very elastic synthetic fibre hairs
Rust-proof steel ferrules
Matt green wooden handles
Handmade in Germany 

by Da Vinci
Video: Da Vinci Mottler 5073 Brush Series Demo
These Mottler brushes are manufactured by the world's finest brushmaker, Da Vinci, in Germany. The 5073 range is highly recommended for students and hobbyists, ideally for use with acrylic paints. 
They have dark grey, very elastic short synthetic fibre hairs, a rust-proof steel ferrule and matt green wooden handles. This innovative product pushes the traditional school brush with natural hair into the background when it comes to real painting and colour absorbing capacity. They come in several sizes: 20, 30, 40 & 50mm.
Cleaning your brushes:
1. Water-soluble colours should be washed out with water.
2. Acrylic colour, as long as it is wet, should be washed out with water. When dried up it can only be dissolved with special cleaning agents.
3. Oil colours should be wiped off thoroughly with a piece of cloth, where appropriate clean with a special cleanser.
4. Hairs, bristles and synthetic fibres should be cleaned with a special soap (our order no. 4033 and 4433), that cleans and maintains the brush head on the basis of vegetable oils, and warm water until the soap begins to produce white lather. Do not use strongly fat removing soaps! Especially natural hair tends to break if they are missing their protecting fat contents. By that you elevate the life as well as the suppleness of your brushes.
6. Afterwards wipe the brush with a fine piece of cloth and bring it to its original shape. Artists call this procedure "dressing".
7. Let the brush dry completely before you use it again. Don't put it on the radiator to dry. There the hair will dry too quickly, the handle will shrink, and the brush head will come loose.
Anonymous A.
18/01/2022

5
/5
Nice firm brush. Should make large calligraphic marks successfully.
Anonymous A.
08/09/2021

5
/5
Great brush for those small tricky areas.
Anonymous A.
22/03/2021

4
/5
Value for money and firm to use.
Anonymous A.
23/02/2021

5
/5
nice to use
Anonymous A.
24/07/2020

5
/5
Love these brushes, good value and suitable for oil painting.
Anonymous A.
17/04/2020

4
/5
Was a little softer than I'd hoped for but still excellent quality.
Anonymous A.
23/08/2019

5
/5
I have bought many of these brushes over many years, they are excellent for detailed decorating work
Anonymous A.
16/12/2017

5
/5
Nothing wrong
Anonymous A.
28/01/2017

5
/5
Great brushes I recommend them