Sale!
You save 70%
You save 70%
Out of Stock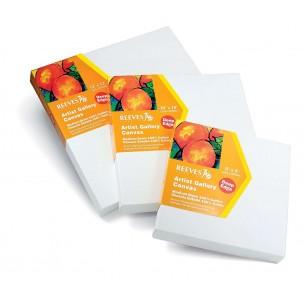 Deep Edge Canvas Twin Pack
Reeves Artist Gallery Deep Edge Canvas has a depth of two inches and has been stretched to the same exacting standards that you would expect from a Reeves canvas. These double primed canvases are made from medium grained, 100% cotton canvas stretched around a 40mm thick wooden frame. 
Unlike many other stretched canvases on the market, they have no side tacks giving you the freedom to paint the sides or display without a frame knowing that the unsightly tacks will be hidden from view. The deeper edge allows for a more 3D effect than regular canvas.

They are absolutely perfect for both painters looking for an inexpensive pre-stretched canvas solution or for anyone trying their hand at a bit of home-decorating and want to dabble in a little painting. These canvases are ready to paint on out of the box, and are perfect for both oil and acrylic.
Anonymous A.
13/02/2018

5
/5
I bought three packs of these canvases to try them out. They are quite good quality for the price paid. I will be ordering more, and won't hesitate to order a larger size.
Anonymous A.
08/02/2018

5
/5
Good value
Anonymous A.
27/01/2018

5
/5
Good quality canvasses - muich better than I usually purchase at The Works.
Anonymous A.
24/01/2018

5
/5
Fantastic quality for the price.
Anonymous A.
23/01/2018

5
/5
Good quality and cheap