Sale!
You save 66%
You save £145.00
Out of Stock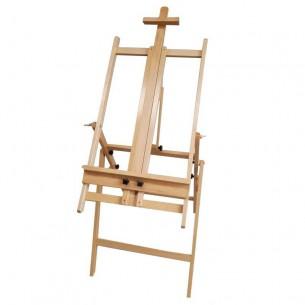 The Regent Studio Easel is for indoor use only
Made from high quality beechwood
Highly adjustable
Tilts forward
Tilts backwards into a horizontal position
Maximum height: 174cm
Holds canvases up to 155cm
Dimensions: 61 x 65.5 x 137cm
Similar to the Winsor & Newton Hamilton Easel
About Cowling & Wilcox Easels

Cowling & Wilcox Ltd. began selling art supplies in London in 1960 and has been going strong ever since, offering high-quality art products and materials for nearly 60 years. To this day, we maintain our original concept of providing specialist fine and graphic art materials at exceptional prices, and we're devoted to upholding this mission statement as we expand and evolve into the future.
With our incredible range of artist easels we're offering you a wide selection to choose from, for use at home in your studio or for on the go. All of our easels are named after streets in and around London's Soho.
We stock a variety of easels to ensure the artist's every requirement is met.
Field or Portable Easels are designed to be taken outdoors, and are the perfect choice for travelling artists or those wanting to plein air paint. This type of easel is also preferable for artists who prefer a level of mobility around their studio. Folding to a lightweight, compact size, portable easels require little storage space.
Available in H-Frame, A-Frame and Single Mast designs, Studio Easels are ideal for the artist who has a dedicated studio space, where an easel can remain standing indefinitely.
H-Frame easels have a strong base that makes them sturdier than A-Frame easels, and better able to handle large canvases.
A-Frame or Lyre easels have two legs at the front and one at the rear, which pushes forward allowing the easel to be flattened and easily stored.
Single Mast easels are simple and affordable, a great choice for beginning artists, art students, or anyone with limited storage space.
Portable and easy to store, Table Easels are small enough to place on a table top, and perfect for artists who prefer to sit while working, or whose work is on a more modest scale.
Timothy B.
08/03/2023

5
/5
Excellent easel. Great offer . Real value
Sharon L.
12/02/2023

5
/5
Excellent quality and good value for money. I wished I considered the purchase a while ago.
Kiera R.
12/02/2023

5
/5
Amazing quality item. Easy to install, beautiful material. I really appreciate the easel a lot and am very grateful to you for making it, thank you so much!
Louise B.
04/02/2023

5
/5
very sturdy well made good quality. My daughter needed it for A level art she was really impressed with it.
Elizabeth M.
03/12/2022

4
/5
Excellent - well tooled wood - sturdy and adjustable for different canvas sizes that are firmly held in place. The assembly instructions need to be reviewed - they are very poor!!
Timothy J.
31/07/2022

5
/5
Amazing value for money. Took a bit to put together instructions not too clear but great craftsmanship put into the design and quality of the wood. Can not rate it enough.
Anonymous A.
11/05/2021

5
/5
Amazing discount and well designed product self assembly but achieved without much trouble not yet splashed with paint but looking forward to using.
Anonymous A.
22/04/2021

5
/5
wanted something to do oils as well as water colours this will do this perfectly. very well made.
Anonymous A.
14/10/2020

5
/5
excellent value for money
Anonymous A.
03/09/2020

5
/5
Excellent easel. Even better than expected
Anonymous A.
05/08/2020

4
/5
this was the item that was damaged but it would be unfair to totally rubbish this easel as on the whole it has proved useful but the missing/broken adjusting knob means my experience with it has been marred.
Anonymous A.
13/07/2020

5
/5
I LOVE this easel. The ability to tilt it is great but its so adjustable I can even work on small canvasses on it, or set it up so I can sit down and work. Its more flexible that way than a much more expensive one I had previously. It will take a pretty big canvas too, and doesn't hit the ceiling like my other one. Love it
Anonymous A.
12/07/2020

5
/5
Very pleased with the ease, good design , very solid, with plenty of scope to change the angles of the drawing position
Anonymous A.
30/03/2020

4
/5
This easel was easy to assemble and does what it says on the box. Would recommend it.
Anonymous A.
05/11/2019

5
/5
Lovely, sturdy, top quality. I'm loving using my new easel
Anonymous A.
21/02/2019

5
/5
Very good quality at a very reasonable price.
Anonymous A.
21/02/2019

5
/5
It is a fantastic easel, quite sturdy and firm, yet versatile for different applications. I am completely satisfied with it. Also it is really a value for money purchase. I don't think it is any different from the same easel from other big brands that in my opinion charge so much only because of their name! I totally recommend this easel.
Anonymous A.
21/02/2019

5
/5
Great deal, very well made, very sturdy, good functionality.
Anonymous A.
21/01/2019

5
/5
Really good value for money!
Anonymous A.
17/01/2019

4
/5
Pretty good value
Anonymous A.
16/01/2019

5
/5
As good as you will find for 3x the price, shocked at the fine quality finish!
Anonymous A.
29/12/2018

5
/5
It is an excellent and sturdily made product. Has nice wood that looks good in the living room where my son and his four year old daughter make interesting pictures. Is much bigger than her old easel so easier on parent's backs.
Anonymous A.
04/12/2018

5
/5
This is a present for someone else but from what I can tell it looks great!