Sale!
You save 45%
You save 45%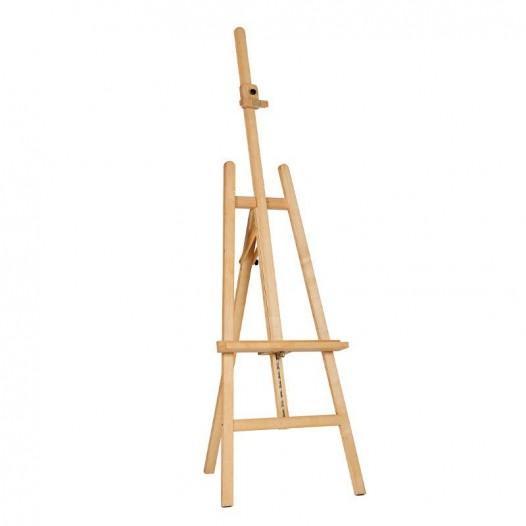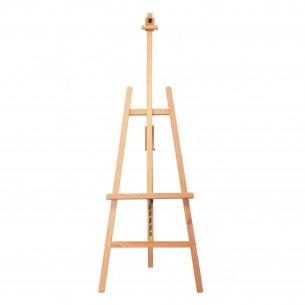 Cotswold Studio easel is complete with a premium beechwood finish
Tilting facility for a variety of angles
Adjustable height
Holds max. canvas height of 127 cm
Weight: 10.5 kg
Video: Daler-Rowney Easels Range
Constructed from premium oiled beechwood, Daler-Rowney's Cotswold Studio Easel is designed to provide a substantial framework for the artist. Offering a range of canvas positions, this easel can be titled forwards and backwards, in addition to being adjustable in height.
Why use an Easel?
Many artists prefer to use an easel because it enables them to work more freely, and to step back and view artwork from a distance. Working in a vertical position reduces the possibility of perspective being skewed, prevents dust gathering on slow-drying media, and the build up of loose pastel, chalk or charcoal sitting on the support.
Why choose Daler-Rowney Cotswold Studio Easel?
Easily self-assembled, using the five Allen screws and key provided, the Daler-Rowney Cotswold Easel may be transported without difficulty. A sturdy A-frame design, this easel features a metal ratchet, which allows the artist to adjust its position to an optimal working height.
What are the dimensions of Daler-Rowney Cotswold Studio Easel?
Standing at a height of 174cm, the Cotswold Studio Easel extends to a maximum height of 267cm, and weighs 10.5kg. Able to accommodate a canvas or board up to 127cm in height, this easel has a width of 64cm and depth of 16.5cm.
How do I use an easel?
The following videos give further information on using an easel:
Starting To Draw: Using An Easel
What types of Easel are available?
We stock a variety of easels to ensure the artist's every requirement is met.
Field or Portable Easels are designed to be taken outdoors, and are the perfect choice for travelling artists or those wanting to plein air paint. This type of easel is also preferable for artists who prefer a level of mobility around their studio. Folding to a lightweight, compact size, portable easels require little storage space.
Available in H-Frame, A-Frame and Single Mast designs, Studio Easels  are ideal for the artist who has a dedicated studio space, where an easel can remain standing indefinitely.
H-Frame easels have a strong base that makes them sturdier than A-Frame easels, and better able to handle large canvases.
A-Frame or Lyre easels have two legs at the front and one at the rear, which pushes forward allowing the easel to be flattened and easily stored.
Single Mast easels are simple and affordable, a great choice for beginning artists, art students, or anyone with limited storage space.
Portable and easy to store, Table Easels are small enough to place on a table top, and perfect for artists who prefer to sit while working, or whose work is on a more modest scale.
Who are Daler-Rowney?
Established in 1783, by Richard and Thomas Rowney, Daler-Rowney has been manufacturing the finest art materials for over 230 years.
In 1963, Rowney became the first manufacturer in Europe to introduce artists' acrylic colour.  Widely used by artists, including well-known proponents Peter Blake and Bridget Riley, throughout the 1960s and 1970s, Rowney's "Cryla" heralded a new era in art practice, which became known as 'Pop Art'.
In 1983, the Daler Board Company purchased the George Rowney Company, forming Daler-Rowney Limited, as the company is known today.  Daler-Rowney now operates from three manufacturing bases, two in the UK and one in the Dominican Republic, where their artists' brushes are made.
Anonymous A.
15/03/2021

4
/5
I paid a good price for Cotswold Easel. It's well designed and manufactured. Smells of linseed oil, in a good way. Really sturdy, which is what I need.
Anonymous A.
25/11/2020

4
/5
£75.00 and as I said it is an Xmas present.
Anonymous A.
08/09/2019

3
/5
Instructions are rubbish. Easel delivered in box, no padding, bubble wrap or similar. Hoped to get superior quality at sale price but with a few nicks and some parts not finished (poor workshop line control) and the hassle of assembly, we've landed on an average rating. As long as it stays together properly for a decade at least! Cowling & Wilcox's saving grace is the use of DHL. Excellent service from this courier every time.
Anonymous A.
02/04/2019

4
/5
good stable easel but the instructions for assembly are very poor
Anonymous A.
08/11/2018

5
/5
Just the job !
Anonymous A.
25/08/2018

5
/5
Very good product but the instructions to assemble it were confusing and not very explicit. Took a while and we had to work it out ourselves !
Anonymous A.
13/07/2018

4
/5
dose it job but not vey solidly build.
Anonymous A.
03/07/2018

4
/5
Solid and worth every penny
Anonymous A.
29/05/2018

4
/5
The product looks fine. We assembled it but I haven't used it yet. The assembly instructions were not easy to follow but we managed in the end.
Anonymous A.
29/05/2018

5
/5
Good quality and well made. Very good value for money.
Anonymous A.
05/03/2018

4
/5
Nice quality easel but oh dear......the instructions were dismal and I eventually had to download another set of instructions from the web. Cowling and Wilcox offered this product at a very good price and their delivery was prompt and well packaged. Care in supplying decent instructions would have earned them a 5 star rating
Anonymous A.
14/02/2018

5
/5
top quality
Anonymous A.
13/02/2018

5
/5
Excellent
Anonymous A.
24/01/2018

5
/5
Good strong quality especially for sale price
Anonymous A.
15/12/2017

5
/5
Sturdy,easy assembly,ideal for what i was after.
Anonymous A.
19/07/2017

5
/5
Arrived really quickly and just what I wanted. Good value
Anonymous A.
01/04/2017

5
/5
VERY PLEASED
Anonymous A.
24/03/2017

4
/5
Very good
Anonymous A.
12/01/2017

5
/5
A little fiddlesome to assemble but fine once I thought about it properly. Seems study and stable enough and simple to fold flat to store. Hours of fun ahead I think.