Intricate, interesting & unique are just 3 words we could use to describe the work of our latest featured artist; Paulina Estrada!
We were lucky enough to get the opportunity to find out more about their creative process, inspirations and what all of it means to them.
At only 23, these pieces are incredibly detailed, have you always been a creative type?
"Yes of course!  Creativity has always been a staple in my life. It helped me get through many hard times and reminded me how simple life really is.
I believe fun always begins with creativity, it serves as a reminder of the inner child in me."
We're always a big fan of encouraging that eternal child-like excitement we all feel when getting truly creative (and just a little messy!) 
What inspires your designs?
"My designs have always been inspired by nature.  Nature is the most naturally beautiful thing on earth as well as the most creative, I have seen the most wild and bizarre patterns in nature that leave me in awe.  I've always believed nature is a reflection of all that we are, it's a simple reminder to take a deep breath and ground yourself."
What got you started making jewellery?
"I always loved the idea of creating art and sharing my view of it with others, but the idea of creating pieces of jewellery you can wear & have it remind you of the natural beauty we all hold was what made me start this journey.  I truly love turning my visions into reality." 
We do feature materials on our site for creating handmade pieces of jewellery, such as the DAS air-drying clays & their various tools and accessories.
How would you describe your process, for instance, how long on average would it take to produce one of your necklaces?
"When I first started making jewellery, it would take me around 5-6hrs to make one necklace.  Now that I've been doing this for over a year, it takes a maximum of 2.5hrs."
As with all things in life, it's about practice & passion!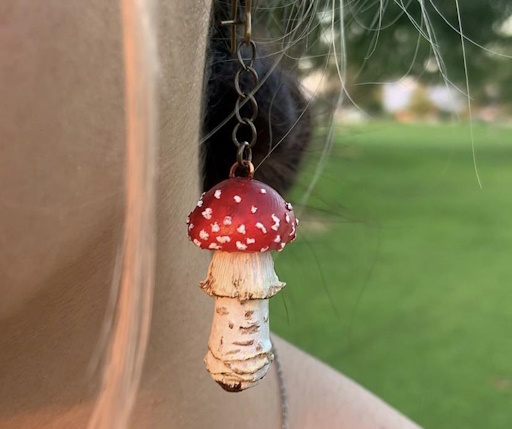 What are your essential tools you just couldn't live without?
"Since I work with oven bake clay, I would have to say liquid clay as it helps bind pieces of clay together & make it sturdier, a needle & my small hobby knife.  Those may not be clay tools specifically, but before I had clay tools those are what I worked with.  You'd be surprised how many details you can create with just a simple hobby knife and a needle."
It's true, clay can be very forgiving, providing an amazing level of creativity, whether you have the right tools or not.  But, since it's always better to be prepared, we do have our own Cowling & Wilcox brand pottery tool kit available.  
Are there any other mediums you like to work in?
"Acrylic and oil painting were my first artistic venture & I still enjoy them to this day."
We know that not everyone is into painting as a technique, but if you're interested in starting or expanding your knowledge, you can find our whole range right here.   
Can you describe your creative space / studio?
"I work from my room in my home.  I add touches of nature, making sure to keep my surroundings just as inspiring as being in nature itself."
Any hints or tips for other artists?
"Have patience with the creative process you are in, the outcome of your work is always worth it.  You lose nothing in trying, you only gain skills you didn't have a couple hours before!"
And finally, where else can we find you online?
If you'd like to be one of our Featured Artists please email us some examples of your artwork, along with a little bit about yourself.
< Back to blog