Our latest Featured Artist is the fantastic Sarah Hill, 32, who's based in London. Sarah has a knack for creating large, detailed pieces and her monotone work makes a powerful impact. Read on to find out more…
How did you get started as an artist?
I have always wanted to be an artist since a young age. Whatever has been happening in my rollercoaster of a life, art has always been there in the background. I first discovered a love of paper because my grandad had a printing business and I was always given lots of different papers to draw on as a child. I studied BA Hons in Fine Art at Wimbledon College of Art from 2006 to 2009 and then completed an MA in Fine Art at Chelsea College of Art in 2016. 
What inspires you to be creative?
I think emotion drives a lot of my creativity. It's my way of releasing. I am inspired by everyday society and its socio-political issues, especially for young people, and have an outlet to express myself in this complicated world. When I am creating, I feel like I can be at peace for a while. 
How would you describe your creative process?
I think it's impulsive. I can wake up in the middle of the night with an idea and I won't be happy until it has been realised on a page. I always have a few pieces on the go at once. 
What's your favourite medium to work in and why?
Drawing, as it's so versatile and the definition of what is a drawing is is always expanding. 
What do you find the most challenging about the creative process?
Creative block or problem solving!
In which ways do you differentiate your work from that of other creatives?
I just do my own thing, and stick to my own natural style. I don't try to emulate anyone else, and go with my instincts. 
What are your most essential tools?
Pens, paper, sketchbooks and pencils.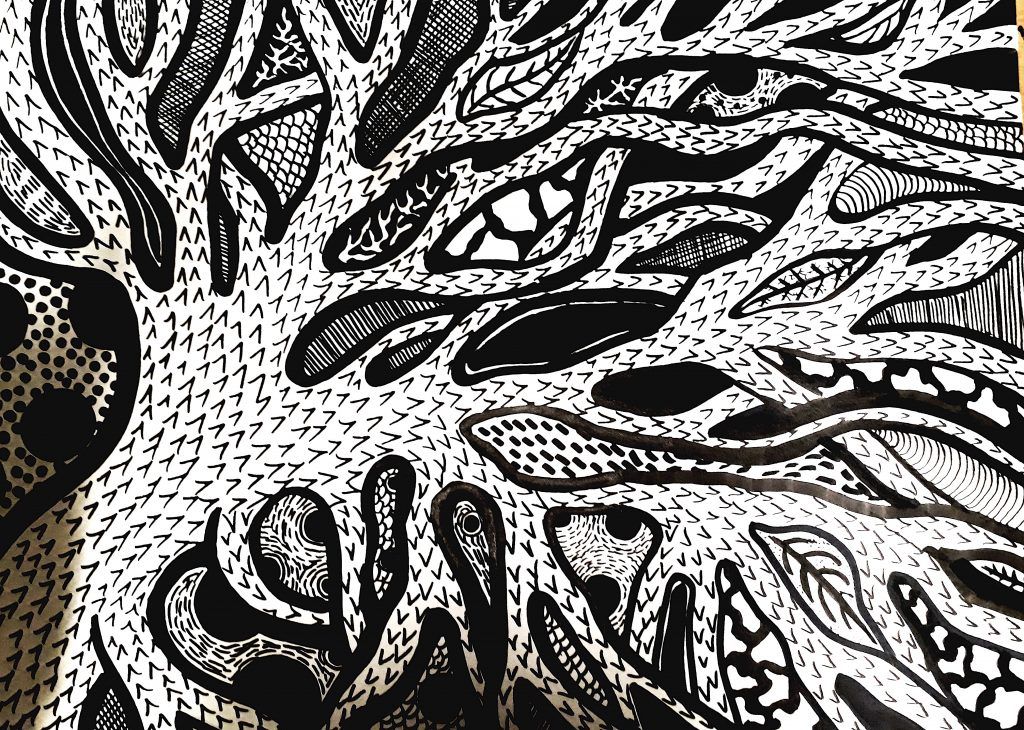 What's your studio/workspace like?
My studio is a treasure trove of completed work and unfinished projects. It's in the basement of a block of council flats in North London. The space has no natural light so I use lamps. I am in a shared studio space with several others, and it's a friendly community of creatives. I am near Hampstead Heath, which is nice to have a walk round and explore. I have occupied my space for just over 2 years now. 
Any tips for preparing a portfolio?
Be your authentic self and let your portfolio reflect your personality.  
Do you have a favourite art tip that you can share with our readers?
The past doesn't have to define you. This can apply to art related things or life happenings!
Where can our readers find out more about you?
I have an Instagram page. 
If you'd like be one of our future Featured Artists please get in touch! Email us at blog@cowlings.com with a few examples of your artwork and a little about yourself.
Why not hear from another of our featured artist, Molly Lambourn?
< Back to blog