It's a fact that artists have agreed on for centuries now, owning an easel is not only undeniably cool but makes it far easier to create! They improve your posture, make it easier to represent accurate proportions & even free up space.
We understand the palpable excitement when you find the perfect easel, so we're sure you'll want to get it set up quickly. Take a look at our blog on just how to set up a wooden easel.
Types of wooden easel
Having been around for centuries now, there are almost limitless varieties of wooden easels out there, but don't let this deter you, they're not as intimidating as they may first appear. Interestingly, although they genuinely couldn't be more different if they tried, the most popular variations are Field or Studio easels.
Lightweight & portable, Field easels are easy to set up & break down, normally being compact enough to be carried or easily stored. At the opposite end of the spectrum, you'll find Studio easels. Although these can be adjusted in numerous ways, they're much heavier & generally designed to be constructed & kept where they are.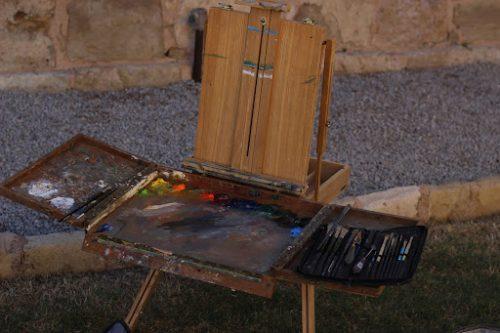 Setting up an A-frame (or Tripod) easel
The majority of wooden easels are simple to assemble & usually have instructions of their own, but making adjustments can require some practice. Tripod, or "A-Frame," are the easiest to store, thanks to their telescopic legs. When they arrive, they're usually folded flat in the box, so you'll simply need to stand the easel up and pull the rear leg out. 
If the legs of a Tripod easel are adjustable, they may be folded up & need to be extended before you can stand the easel up. Work out the height you need the easel to stand at & make any necessary adjustments using the fittings either built-in or included (usually wingnuts, screws or clips).
Setting up an H-frame easel
It's highly likely that your H-frame easel will arrive flat-packed in a box, requiring some level of assembly. It's best to closely follow any provided instructions, to ensure that it's stable enough to hold your canvas.
With their solid, sturdy bases H-frame easels are reliable & built to withstand more intensive usage, however, this does mean that they're nowhere near as portable or convenient as their A-frame counterparts.
Keep in mind though, that doesn't mean that they're rooted or anchored to the spot you build them in! A prime example of this is the Shaftesbury easel from Cowling & Wilcox, which features fitted castor wheels, making it able to move around within your studio or home.
Building a Wooden Easel
Is it possible to build a rudimentary A-frame easel simply using a few lengths of wood, some hinges & a handful of screws? Sure. But this basic style is only really suitable for displaying completed projects (and if you want to avoid the splinters, you could easily pick up a Marshall easel for that). 
Furthermore, if you use various sizes of canvas or paper, or often find yourself switching between sitting & standing when working, you will typically need a more versatile easel. This will be far more complex (and possible more expensive!) to build from scratch.
There is a wide range of affordable easels available at Cowling & Wilcox. If you need help deciding which one will be suitable for you or if you have any other questions, you can give us a call on 01303 290550.
< Back to blog