Uni POSCA Paint Markers use water-based pigment inks to produce poster paint-like vibrant colours that can be used on almost any surface. This handy guide covers all of the different materials you can use POSCA markers on and how to use them, so you can run free with your POSCA pen ideas and designs.
You might have already heard of upcycling: it's the process of taking an item that is no longer wanted or needed and giving it new life as something that's either useful or creative. With POSCA, it's easy to transform everyday objects into something completely different. There are limitless things to do with POSCA pens, the only limit is your imagination…
1. Wood
Warm and natural, wood is a material used in many forms and many contexts, for all manner of decorative purposes. It's an ideal complimentary material for POSCA, whether rough or polished, for designing inspired creations both indoors and outdoors.

On treated or varnished wood, it is advisable to roughen the surface with sandpaper before starting to work with POSCA. With recovered or recycled wood it's a good idea to clean it first with water and a soft sponge. As wood is a porous natural material it will absorb a lot of paint. Depending on the effect you want, several coats may be necessary.

Pro Tip: Once your creation is finished and dry, apply two coats of water-based spray varnish. Hold the can about 30 cm from the surface and spray in slow circular movements. The varnish can be matte or gloss depending on the look you want.
2. Ceramic
Whether it's pottery or earthenware, stoneware or glazed terracotta, there are many categories of ceramics. Most are made with fired clay. This medium, often associated with traditional crafts, provides fertile ground for many types of creations. POSCA pens can be used on ceramic to create bold and brilliant designs.
Designs will be temporary if the ceramic is treated or permanent otherwise. Either way, if you decorate ceramics that were previously used with food, they will no longer be food-safe after decoration.
To prepare your ceramics for your POSCA pens, clean the surface with a cloth and ensure it's dry before you start painting. You can mix and layer colours any way you like.
If your ceramic is treated, the time POSCA paint takes to dry will be longer. Creations based on lines are quicker to finish. For areas filled with colour you'll need several coats, leaving the paint to dry between layers.
Once your design is dry, you can fix it using using a water-based spray varnish, spraying from about 30 cm away in small circular movements. With rough ceramics, fire your creation in the oven. Heat the ceramic in the oven slowly at 220°, then turn off the oven and allow it to cool completely before taking it out.
You can fix POSCA paint to porcelain in the same way, but at a temperature of 160° and for no more than 45 minutes. Afterwards, wash only in cold water.
3. Paper & Cardboard
Paper is one of the POSCA marker's closest allies – whether it is a basic sheet of paper, card, Bristol board, crêpe or even papier mâché, the paint adheres perfectly and permanently.
No special preparation is needed to use POSCA on paper. For cardboard, remove any dust from the surface. All POSCA techniques can be used on paper and cardboard. For a water colour effect make sure the surface is thick enough, as the thinner the material the more fragile it will be. Take care also with the amount of water you use, and leave enough drying time to protect it. If you're drawing on photographic paper the drying time will be longer.
No special fixative is needed for POSCA on paper. However, to optimise conservation over time you can apply a water-based spray varnish.
Hold the can about 30 cm from the surface and spray in slow circular movements. The varnish can be matte or gloss depending on the look you want.
4. Fabric & Textiles
POSCA makes it easy to personalise and customise everyday materials such as clothing, soft furnishings and decorations, allowing you to breathe new life into your old belongings. Here are some tips on how to apply POSCA on fabric.
Before you apply POSCA paint pens onto fabric, machine wash the textile to remove any industrial coatings or dirt. For skins such as natural or artificial leather wipe with a humid sponge and leave to dry. For real or imitation suede, brush gently with a soft brush.
POSCA will always be more heavily absorbed by natural materials. We recommend using an absorbent material beneath your surface (such as paper). The drying time and number of coats you will need for a uniform result will vary and can be evaluated visually.
To fix your creations you can iron them from the reverse side (without using steam). Take care with the temperature of your iron. Place a sheet of greaseproof paper between the iron and the fabric for extra protection. If the fabric used is not suitable for ironing then you can fix your creation with a hair dryer. Hold it 30 cm from the surface and make small circular movements.
5. Glass
For hundreds of years glass decoration has been a much appreciated practice among artists of all backgrounds, and there are plenty of POSCA pen ideas to seek inspiration from when creating your own glass decoration. Transform everyday items such as jugs, glasses, mirrors and even windows! On glass, POSCA colours gain new depth and luminosity and can be washed off with water whenever you want.
Always clean your glass surface with a cloth and ensure it's not damp or greasy before painting. Creations consisting only of lines will produce the best effects. In areas that need to be filled with colour, several coats will be needed for a uniform result, leaving a few minutes of drying time between coats.
You can make your creations permanent by applying two coats of water-based spray varnish. Use matte or gloss depending on the look you want.
6. Metals
POSCA adheres very well to metals such as iron or aluminium. The colour will be permanent on rough or porous metals and erasable on perfectly smooth metals.
You can prepare, layer and fix your designs on metals exactly as you do with glass. If the metal used is varnished, the drying time will be longer. Add a touch of colour to those dull, grey kitchen and garden decorations.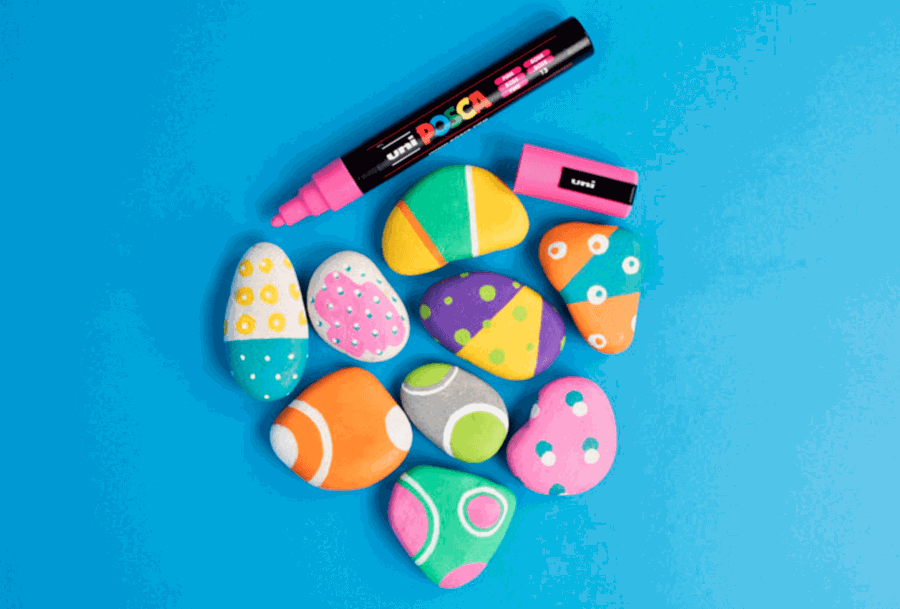 7. Minerals
That's right, POSCA even work on rocks! From natural stone to concrete walls, stones and pebbles of all kinds and shapes, mineral materials offer an easy way to let your imagination run wild with POSCA (as long as you respect the environment and public property, of course).
Mineral materials are naturally porous and will absorb the paint to a greater or lesser degree depending on their nature, so you may need to apply several coats. Varnishes will work as a fixative on minerals.
8. Plastic
There's something very satisfying about using POSCA on smooth plastic surfaces. POSCA paint adheres perfectly to it, enabling you to create stunning designs with ease.
We recommend trying out POSCA on a plain old mobile phone case. Just remove any dust or grease from the surface if necessary. The smoother the surface of the plastic, the less porous it is, and consequently the longer the drying time and the longer you will have to wait before handling your creation. Fix your designs with a water-based spray varnish.
9. Canvas
Who needs brushes? POSCA transforms canvas into a medium that's brilliant for totally contemporary creations. That's what makes it so popular with street artists. Canvas is intrinsically compatible with these markers as they allow you to create immediately permanent results.
Make sure your canvas is properly primed before starting work. No special fixative is needed for POSCA on canvas, but if you want to optimise conservation over time, you can apply a water-based spray varnish.
Priming a canvas is a vital skill for artists. Learn more here.
Did we manage to spark your imagination? Uni POSCA Paint Markers are available in-store & online now, in a variety of colours, sizes and sets!
< Back to blog