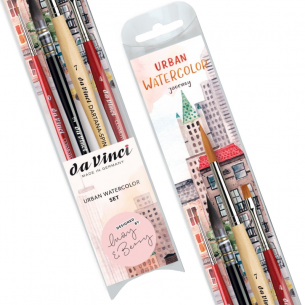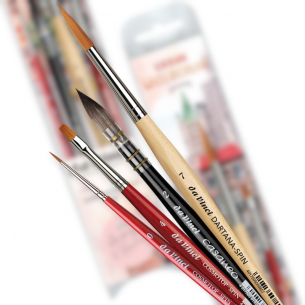 Set of 4 Watercolour Brushes
Designed for "urban" watercolour painting
Featuring options from the CosmoTop-Spin & Casaneo ranges
Also includes a unique, ultra-fine Dartana-Spin brush
Made in collaboration with the popular author duo May & Berry
The Urban Watercolour 5601 Set from Da Vinci has been designed with the author duo May & Berry, specifically with "urban" watercolour painting in mind.
Featuring a selection of brushes from their well known CosmoTop-Spin & Casaneo ranges, along with an additional, unique Dartana-Spin brush.

Almost limitless potential.
The synthetic, highly absorbent & flexible bristles ensure excellent coverage for both washes & backgrounds.
Ideal for a wide variety of Watercolour painting techniques, including blending & calligraphy.



CosmoTop-Spin 5580: Round
Size (s): 0 & 4
Fantastic "all rounder" options, with almost limitless applications.
This style of bristle is perfect for almost anything from thin, detailed work to larger background washes.
The 5580 is a popular range, due to their ability to hold more water than other synthetic brushes, fine tip, stable shape and energetic spring. 
Along with this, their ergonomic, lacquered handles allow for maximum painting control.
Dartana-Spin 188: Extra Pointed
Size: 7
Made using the same bristles & technique as the popular CosmoTop-Spin, this brush is made from a light brown synthetic fibre that comes to an ultra-fine, smooth, arrow-tipped point. 
This allows for quick, accurate application of liquid colour.