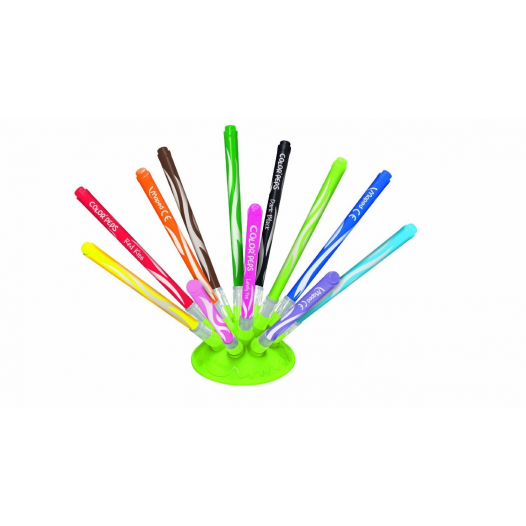 Felt tip pen set of 12 + holder
Inventively designed
Ultra-bright colours
Long lasting, washable inks
Compact and durable
The Color'Peps Jungle Innovation set from Maped is a smart and fun solution to lost felt tip caps and dried out pens. The inventively-designed pen holder carries 12 pens in one place with the caps integrated into the holder to ensure that they never get lost again.

Color'Peps come in a range of ultra-bright colours and are made from long-lasting, washable Inks. Each pen has a medium blocked tip for increased durability, and the compact design of this set makes it easy to store and carry, fitting nicely in most bags and pencil cases. This patented innovative design is the winner of two National Stationery Awards.

This set includes twelve fun colours; Marina Blue, Blue Sky, Lovely Pink, Blush, Red Kiss, Fruity Orange, Sunny Yellow, Dark Black, Green Golf, Apple Green, Marsh Mallow and Woody Brown.

Intelligent
12 felt tips with vibrant colour inks and medium blocked tips, with their lids integrated in a soft base that stands upright in the closed position for easy storage.

Trusted
The ink washes off hands and most fabrics, and the smooth and flexible nibs are ideal for colouring in and drawing.

Reliable
You can count on these pens not being dried out when you go to use them as they are always returned to the caps in the base meaning they last much longer.

Refillable
The Jungle Innovation set can be refilled with other colours from Maped's Color'Peps pen range so you only need to buy the base once.

Ergonomic Fun
Color'Peps are designed for comfort over longer periods of use. The soft, fun base provides a wonderful display on any table or desk, as well as allowing easy selection of colour.

Safety
Children are unable to put pen lids in their mouth and swallow due to them being fixed into the base. Jungle Innovation also meets current toy regulations.
Anonymous A.
17/07/2017

5
/5
These are excellent - bought some for my grand daughter and then bought more for other grandchildren.