Sale!
You save 50%
You save 50%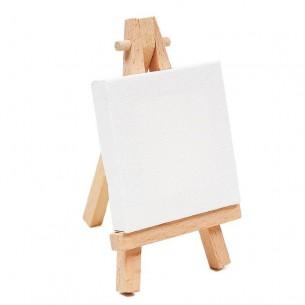 Made from pine
Durable and lightweight
Height: 12cm; Width: 9.5cm
Ideal for creating personalised decorative items
Canvas not included
About Cowling & Wilcox Easels

Cowling & Wilcox Ltd. began selling art supplies in London in 1960 and has been going strong ever since, offering high-quality art products and materials for nearly 60 years. To this day, we maintain our original concept of providing specialist fine and graphic art materials at exceptional prices, and we're devoted to upholding this mission statement as we expand and evolve into the future.
With our incredible range of artist easels we're offering you a wide selection to choose from, for use at home in your studio or for on the go. All of our easels are named after streets in and around London's Soho.
We stock a variety of easels to ensure the artist's every requirement is met.
Field or Portable Easels are designed to be taken outdoors, and are the perfect choice for travelling artists or those wanting to plein air paint. This type of easel is also preferable for artists who prefer a level of mobility around their studio. Folding to a lightweight, compact size, portable easels require little storage space.
Available in H-Frame, A-Frame and Single Mast designs, Studio Easels are ideal for the artist who has a dedicated studio space, where an easel can remain standing indefinitely.
H-Frame easels have a strong base that makes them sturdier than A-Frame easels, and better able to handle large canvases.
A-Frame or Lyre easels have two legs at the front and one at the rear, which pushes forward allowing the easel to be flattened and easily stored.
Single Mast easels are simple and affordable, a great choice for beginning artists, art students, or anyone with limited storage space.
Portable and easy to store, Table Easels are small enough to place on a table top, and perfect for artists who prefer to sit while working, or whose work is on a more modest scale.
Kayleigh B.
08/11/2022

5
/5
Lovely little easels and a great price! Ordered in bulk for my wedding and they're even better than I expected.
Anonymous A.
09/03/2022

5
/5
Just the job to display my cross stitch in a hoop, good quality
Anonymous A.
15/06/2021

5
/5
They were just what I wanted! Very well made!!! Thank you so much
Anonymous A.
19/04/2021

5
/5
I'm using these as stands for some small A5 wooden pannel painting I made.
Anonymous A.
08/02/2021

5
/5
Inexpensive but substantial little easel just right for display purposes, ledge holds a card or mini canvas
Anonymous A.
14/07/2020

5
/5
Adorable, love it. Top quality and great for displaying and working on. Will be back for more!