Sale!
You save 13%
You save £7.01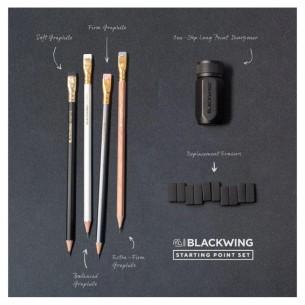 A perfect introduction to these iconic, timeless pencils!*
Includes 4 pencils, 1 from each core range (Matte, Pearl, Natural & 602)
"One-Step Long Point Sharpener", for extra fine points
1 pack of 10 black replacement erasers
The perfect set to introduce any newcomer to Blackwing pencils.
The 4 pencils included feature soft, balanced, firm & extra-firm graphite cores, providing a taste of all the possibilities afforded with Blackwing.
The "One-Step Long Point" sharpener easily creates a long, curved point that's able to effectively resist breakage.
And finally, the pack of 10 erasers included ensure that your pencils are always functional, no matter what!
About Blackwing Pencils
Originally introduced in the 1930s, Blackwing pencils very quickly gained a cult following amongst creatives, with notable examples including author John Steinbeck & cartoonist Chuck Jones (who proudly used them to create Bugs Bunny & other Looney Tunes characters).

Despite this, due to cost-cutting measures, these were discontinued in the 90s... however, this only lead the truly devoted to head online & spend upwards of $40 a pencil! 

Then in 2010, due to the obvious immense customer demand, they were brought back into circulation for the modern generation.
And now, here at Cowling & Wilcox, you can experience these legendary pencils for yourself & find out why people have been so desperate to get their hands on them!
So what makes them so unique anyway?!
Of course, the design is timeless but there are several features that separate these from other pencils!
To begin with, each pencil is made using genuine incense-cedar wood & finished with several layers of lacquer, making them ideal for use anywhere, including the studio, home & out in the field.

Encased in this reinforced wood is a premium Japanese graphite, carefully blended & crafted using clay for strength & wax for a smooth, comfortable finish.
And finally, all Blackwing pencils feature an iconic, rectangular ferrule.
This allows for the eraser to be extended & ultimately replaced when necessary, ensuring the pencil is always functional, no matter how much it's used!
Replacement erasers are available in several colours, to make your Blackwing as unique as yourself!