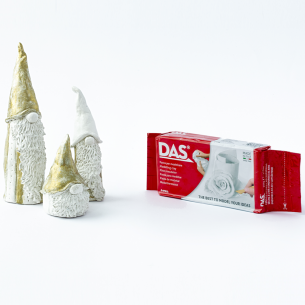 Self-hardening - no baking required
Very malleable and easy to smooth
Suitable for a wide variety of art & craft projects
24 hours drying time per cm of thickness
Dermatologically tested and PVC free
Machine washable from most fabrics
Made in Italy
DAS clay is a fine and even self-hardening modelling clay, suitable for a wide range of art and craft projects. With DAS, no baking is required – it simply dries when you leave it out to air. Drying time is roughly 24 hours per centimetre of thickness. DAS is dermatologically tested, gluten-free, and is easy to washed off hands with soap, as well as most fabrics at 40°C in the washing machine.

It's a very malleable clay and is easy to smooth. Once dry, it remains solid and strong, and it can be decorated with poster paint and acrylic varnish. DAS clay is PVC free and contains no softeners, only vegetable binders. Not recommended for children below three years of age. DAS has been Dermatologically tested, and has been made in Italy since 1963.
Anonymous A.
08/03/2022

5
/5
New to clay sculpting now I'm hooked. Das air drying clay is great to work with.
Anonymous A.
25/02/2022

5
/5
Fantastic, I purchased different modelling clay from a local craft store prior to receiving this and the Das modelling clay is a superior quality. Gives a smooth finish to my work
Anonymous A.
14/01/2022

5
/5
just as described, very big package
Anonymous A.
27/07/2020

5
/5
Lovely and soft to use, very pliable and much better than other brands we have tried. Will buy and use again.
Anonymous A.
22/04/2020

5
/5
great product
Anonymous A.
04/07/2019

5
/5
Best price on the internet, fast postage, highly recommend...
Anonymous A.
17/06/2019

5
/5
Good modelling clay
Anonymous A.
05/02/2018

4
/5
Good
Anonymous A.
20/09/2017

5
/5
Smaller than expected but good value
Anonymous A.
06/05/2017

5
/5
Lovely clay